Homemade pastries - olive rolls. Yeast honey buns with olive oil and olives. Bread with black olives or kalamata olives
Olive rolls, perfect for breakfast, for a snack or as an addition to soups or salads. Delicious yeast bread with the addition of Kalamata olives. For rolls, we can use Greek Kalamata olives or other dark olives that we like.
This is how Sabina French describes these buns in her book Flour and water where this recipe comes from.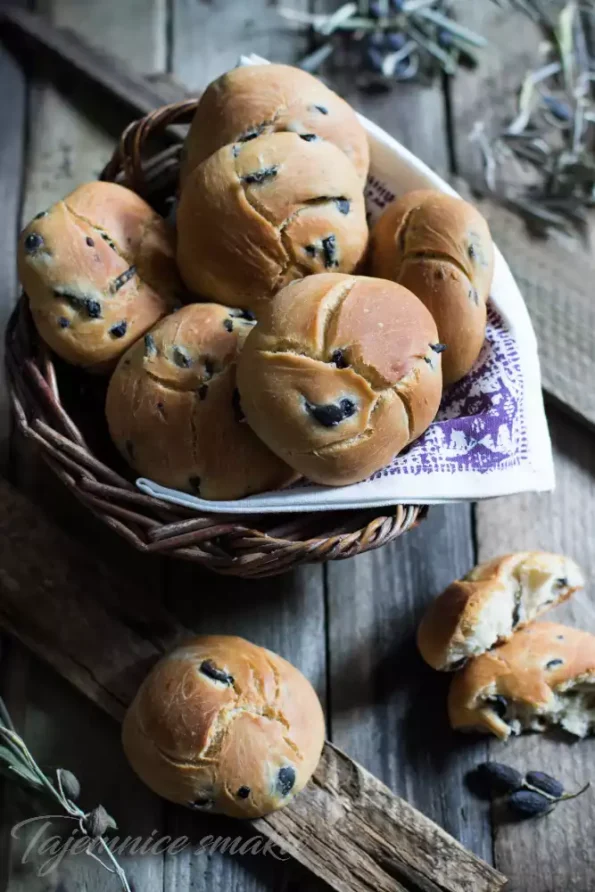 INGREDIENTS
10 g of fresh yeast
2 tablespoons of honey
160 g of lukewarm water
350 ​​g of all-purpose wheat flour
2 tbsp olive oil plus some for spread
pinch of salt
120 g of pitted dark olives, preferably kalamata
EXECUTION
Dissolve yeast with honey in water and leave for 5 minutes.
Sift flour into a bowl, add a pinch of salt and pour water with yeast and honey
Mix everything and knead (preferably with a mixer with a hook) until the ingredients combine.
Add the olive oil and knead until the dough is uniform, smooth and elastic.
The well-kneaded dough is covered with a damp cloth and left in a warm place for about 1 - 1.5 hours.
While the dough is rising, chop the olives into small cubes and, if necessary, drain them in a sieve.
When the dough has doubled in volume, add the chopped olives and knead them again.
Divide the dough into 16 equal pieces, form balls and place them on a baking tray lined with baking paper. We can form balls, weave snails, or give buns any shape.
Cover with a cloth and leave for about 15 minutes.
Preheat the oven to 190°C.
Before baking, flatten the buns slightly with your hand and brush with olive oil.
Bake in a preheated oven for about 20 minutes, until golden brown.
also check
Comments