Fluffy sweet and salty buns with nigella seeds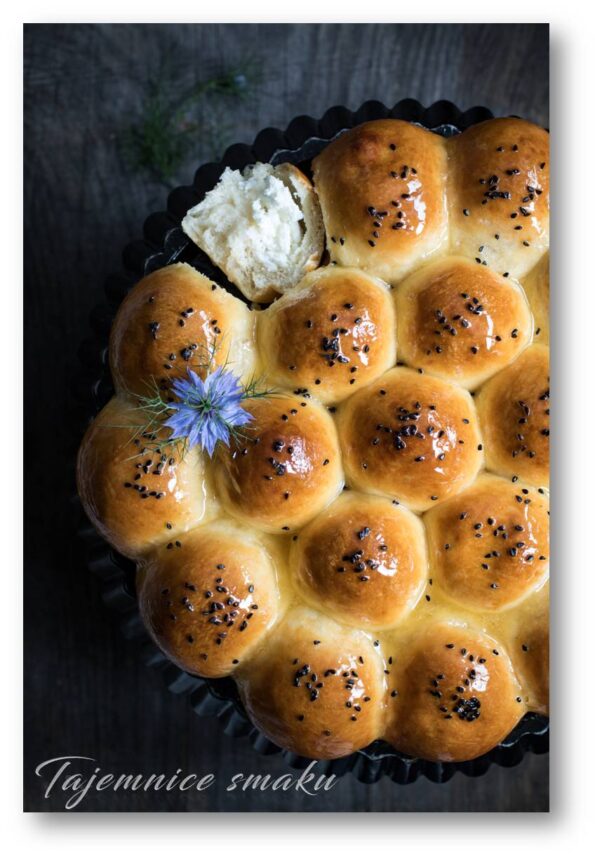 Fluffy buns stuffed with salty cheese, topped with sweet honey butter and sprinkled with nigella seeds. This is a unique baking, sweet and salty with a slight hint of bitterness, an explosion of flavors.
What is nigella? Black Cumin (Nigella Sativa) is a small plant with purple, blue or white flowers. She is often called black cumin, garden nigella, nigger, maiden in green, cocklebur. The Latin name Nigella Sativa probably comes from the color of the seeds (Latin niger - black, nigellus - nigella). Black cumin seeds are characterized by an intense, bitter taste. Nigella is a panacea from nature, and more about its properties in an extensive article Kuchnie swiat< /em> where they can also be purchased.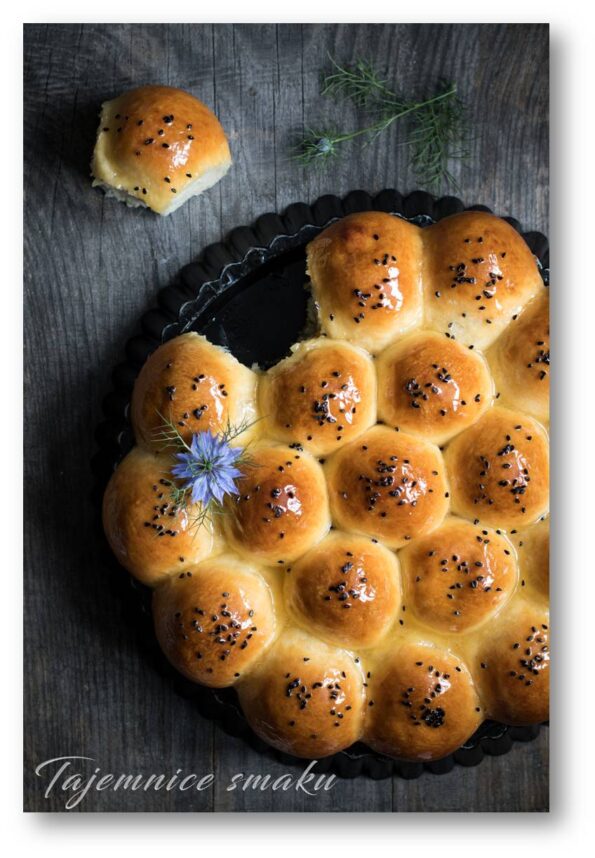 Ingredients
CAKES
400 g flour type 500/550
250g of milk
15 g fresh yeast
1 teaspoon of baking powder
50 g of melted and cooled butter
1 teaspoon of sugar
5g of salt
ADDITIONAL
150 - 200 g of soft feta cheese (this time I used Manouri made of sheep's and goat's milk)
5 g of butter to grease the mold
yolk for spreading buns
20 g butter + 20 g honey
black cumin seeds
a mold with a diameter of about 25 cm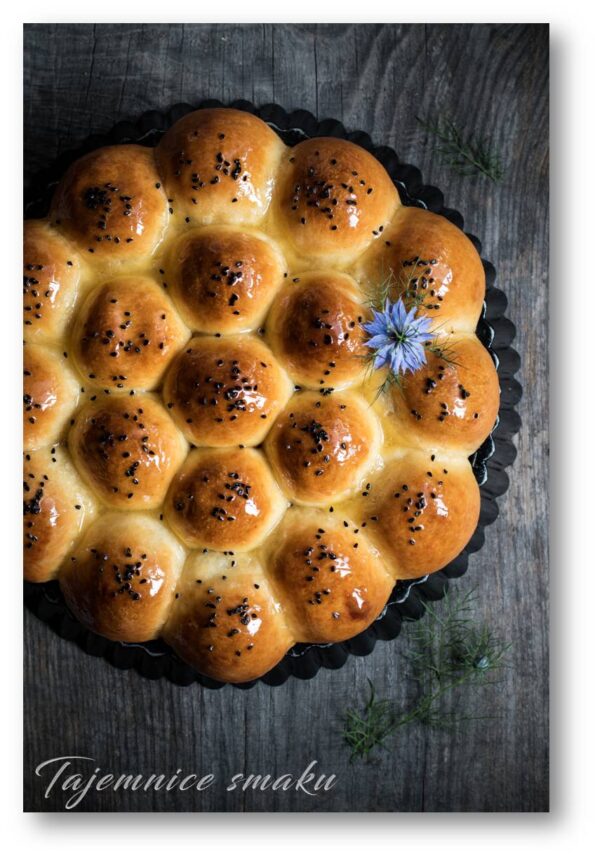 Execution
Mix the milk, yeast and sugar in a bowl and leave for 10 minutes. Mix flour with baking powder, salt and add to the bowl with milk. Stir and knead for about 5 minutes. Add the melted, cooled butter and knead again until the dough absorbs all the butter and is smooth and elastic.
Cover the kneaded dough and leave it in a warm place for about 1 hour to rise, or until it doubles in volume.
Put the risen dough onto a floured surface and knead it briefly. Divide the dough into 19 portions and form balls out of them. Then flatten each ball and stuff with salty cheese. Pinch the ends together and lay them seam-side down in a buttered mold. It is best to start laying from the center, keeping small gaps. Cover and leave to rise again for about 40 minutes.
Heat the oven to 180°C. Brush the buns with egg yolk, put in the preheated oven and bake for about 25 minutes.
While the buns are baking, heat the butter and honey in a small saucepan until it melts. Remove the baked buns from the oven and brush them with melted butter and honey. Sprinkle the whole thing with black cumin seeds.
Enjoy!
also check
Comments