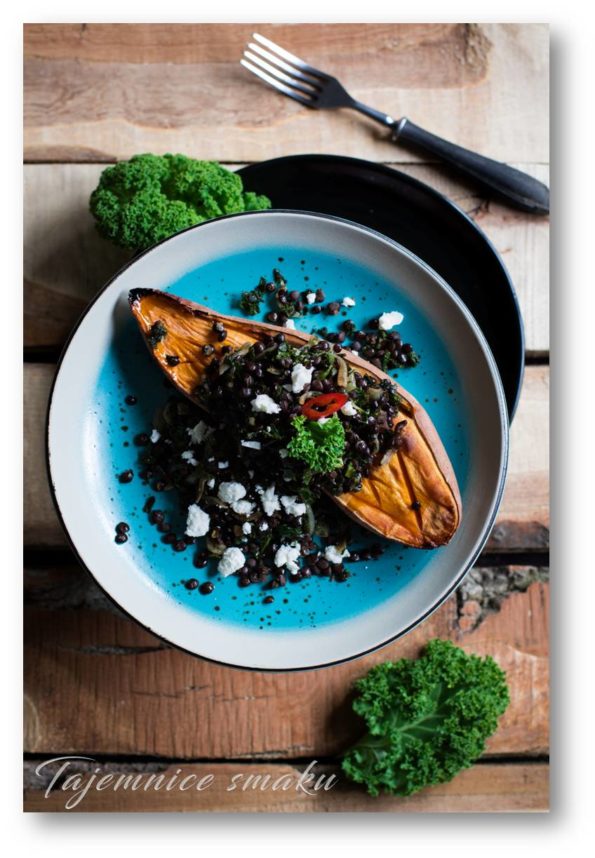 Black beluga lentils, the name refers to black caviar (Beluga sturgeon caviar), to which it is visually similar.
Black lentils do not need to be soaked before cooking , and thanks to the the fact that it retains its shape after cooking, in addition to its taste properties has also visual. Black "balls" of lentils interestingly and look, and taste in combination with pumpkin soup or just with roasted yam.
Ingredients
2 yams
100 g dry beluga lentils
200 ml of water
2 tablespoons of olive oil (1 tablespoon for yams, 1 tablespoon for lentils)
50 g fresh kale
1 onion
1 clove of garlic
salt
pepper
chili - fresh chopped or dried, amount as desired
100 g feta cheese
Makeup
Wash the beaters and cut them lengthwise in half. Arrange on a baking tray lined with baking paper skin side down. Drizzle with olive oil, sprinkle with salt and pepper. Bake in a preheated oven to 200°C for about 40 minutes or until softness.
In a saucepan, boil water. We put the lentils, rinsed and drained in a sieve, into the boiling water and cook for about 30 - 45 minutes. We cook on low heat, covered. If we want to salt the lentils we do it at the end of cooking.
In a frying pan we heat the oil, fry in it the chopped onion, chopped kale and grated or crushed garlic clove, season with salt and chili. When the onions are glazed, add the cooked lentils, stir and remove from the pan. Taste and season if necessary, but do not overdo the salt because the feta is very salty.
Serve the patatas warm. Sprinkle each half with lentils from the pan and crumble feta cheese on top. We can additionally drizzle the whole thing with olive oil with olive oil.
Tasty!
also check
Comments