<! - wp: image {"align": "center", "id": 1680, "className": "is-style-default"} ->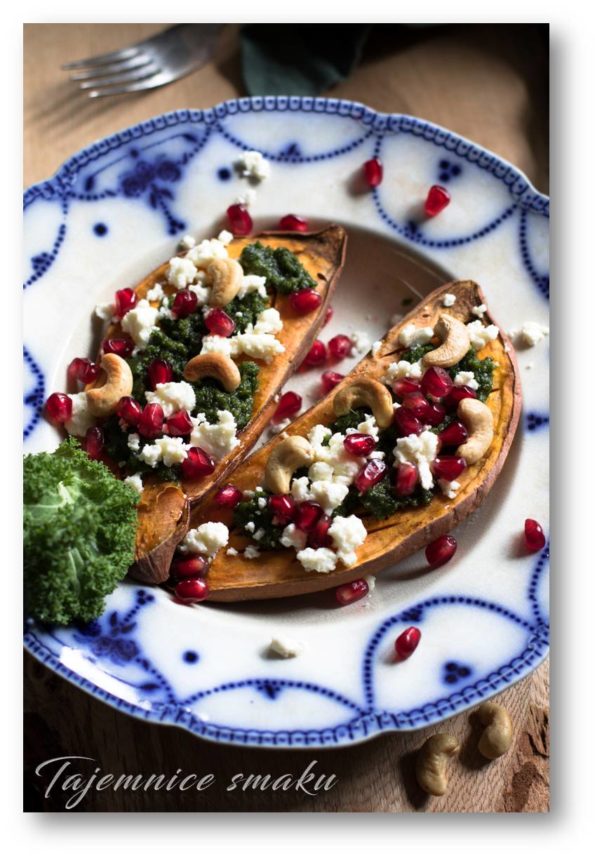 <! - / wp: image ->
Sweet potatoes are sweet potatoes that are very tasty, rich in nutritional value and health properties. You can eat sweet potatoes with the skin on, just wash them and scrub them well. They are especially tasty when grilled or baked. Such a baked crust becomes crispy, crumbly and is an excellent source of fiber.
Ingredients for 2 servings
2 sweet potatoes
4 tablespoons of kale pesto or other * p>
4 tablespoons of pomegranate seeds
100 g of feta
a handful of cashew nuts
4 teaspoons of olive oil
salt
pepper
Execution
Wash the sweet potatoes and cut them in half lengthwise. We can cut the sweet potato from the flesh with a sharp knife. Place them on a baking sheet lined with baking paper with the skin side down. Sprinkle with olive oil, sprinkle with salt and pepper. Bake in a preheated oven to 200 ° C for about 40 minutes or until tender.
Sweet potatoes are served warm. Brush each half with pesto, sprinkle with crushed feta cheese, pomegranate seeds and cashew nuts.
Enjoy your meal!
* Recipe for KAWY PESTO
also check
Comments