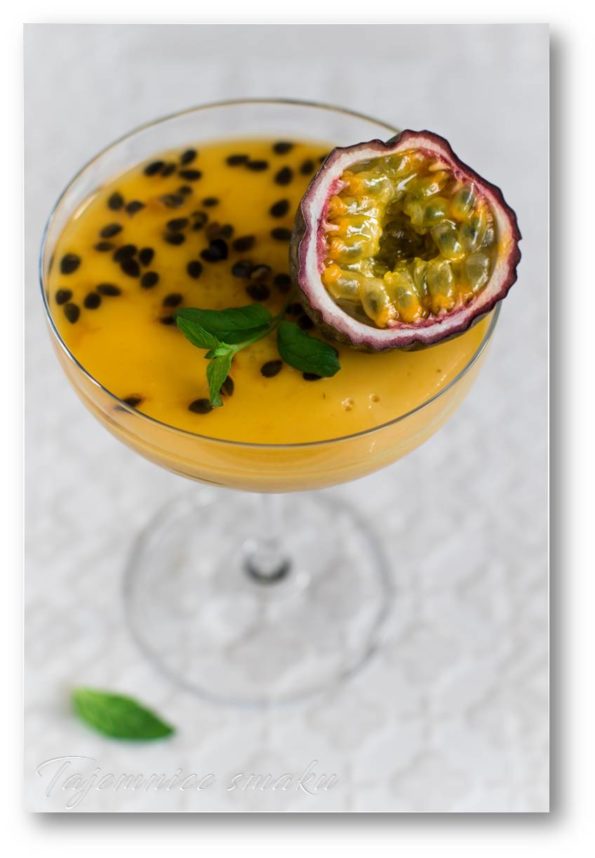 An instant dessert, vegan and made of only five ingredients - coconut milk, mango and passion fruit pulp, agar and fruit for decoration. Panna cotta in a vegan and exotic version. The dessert can be decorated with fresh fruit or passion fruit pulp. Canned fruit pulps are sweet, so we don't have to sweeten the dessert anymore.
A quick, exotic dessert all year round? Is it possible? Yes, canned mango and passion fruit, cartoned coconut milk, agar powder, all of them These products can be purchased at any time of the year. I recommend online stores Cuisines of the World.
Ingredients
400ml coconut milk
250 ​​ml canned passion fruit pulp
250ml canned mango pulp
1.5 teaspoons of agar*
optional - fresh fruit for decoration, passion fruit pulp...
Execution
Bring the coconut milk to a boil, add the agar and cook about 3 minutes, stirring constantly. Remove from heat, cool slightly, add Mango pulp and passion fruit pulp (seedless), mix thoroughly. We transfer to small bowls or elegant glasses, cool in the fridge. Before when serving, pour some passion fruit pulp (this time with seeds) on top and decorate eg fresh passion fruit.
Enjoy!
** The amount of agar depends on the manufacturer's recommendations, but not you should exaggerate with the amount of agar, the dessert should be velvety and delicate shaky.
also check
Comments