<! - wp: image {"align": "center", "id": 1385, "className": "is-style-default"} ->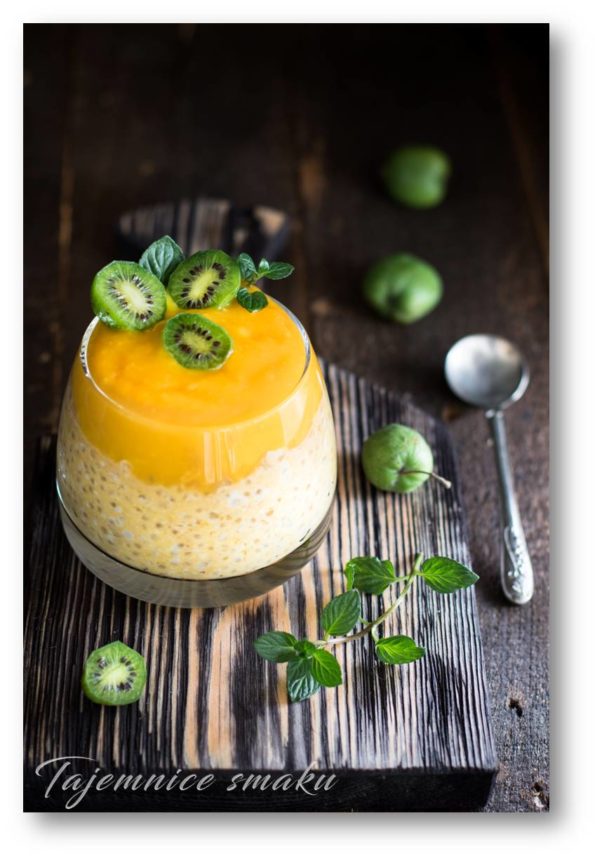 <! - / wp: image ->
Ripe, sweet and juicy mangoes are characterized by a rich aroma and flavor. Since tapioca has a neutral flavor, it is enough to prepare a pudding from it and combine it with the mango mousse. Thanks to this combination, we will get a delicious dessert with an exotic taste.
To get more sweetness from mangoes, we can decorate the dessert with a kiwi slice or mini kiwi halves. Mini kiwi fruit are sweet and sour fruit known as kiwi berries.
Ingredients
80 g tapioca pearls *
400 ml coconut milk
100 ml of water
1/2 lime juice
1 tablespoon of cane sugar
1 mango
Garnish - mini kiwi, mint or lemon balm
Execution
Pour coconut milk, water into a pot and add tapioca balls. We soak them for 45 minutes. After this time has elapsed, simmer the whole for 15-20 minutes until the balls are slightly transparent. At the end of cooking, add sugar, mix and set aside to cool.
Wash the mango, peel it, and put the pulp into a blender. Add the lime juice and mix until mousse.
2/3 of the mango mousse is added to the cooled tapioca pudding and mixed.
Put the tapioca pudding on the bottom of the dish and top it up with the remaining mango mousse. Decorate the dessert with kiwi fruit and mint or lemon balm leaves.
Enjoy your meal!
* Due to the fact that there are various types of tapioca on sale (e.g. instant), in order to prepare the dessert, we should follow the information and directions on the packaging.
also check
Comments