A savory Easter snack - salad in cream puffs
What can you do with choux pastry? Cream puffs, eclairs, karpatka, obwarzanki, puff peas... This is a very versatile cake and has a wide range of uses in the kitchen. We can use them both for desserts and savory dishes.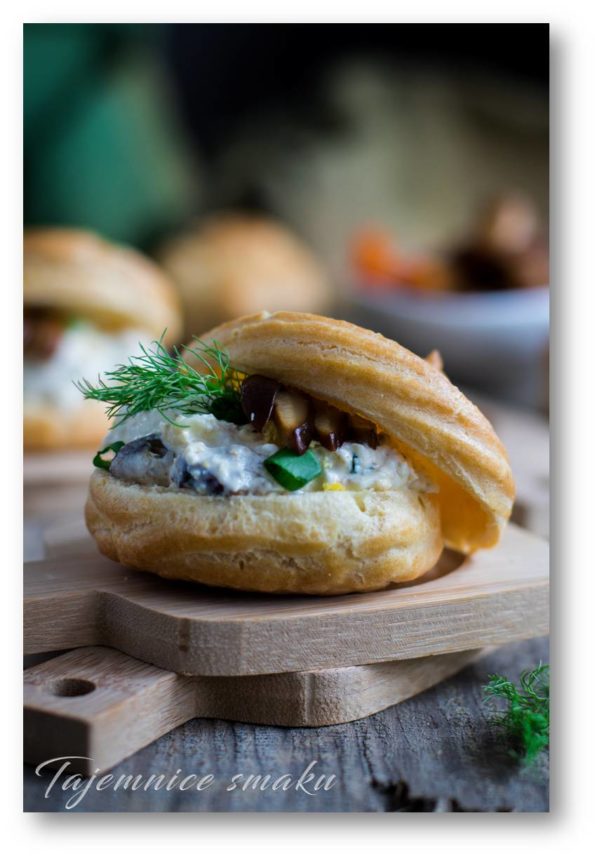 The scalded cake after baking is light and crispy and empty inside. Thanks to this, choux pastries are ideal for stuffing.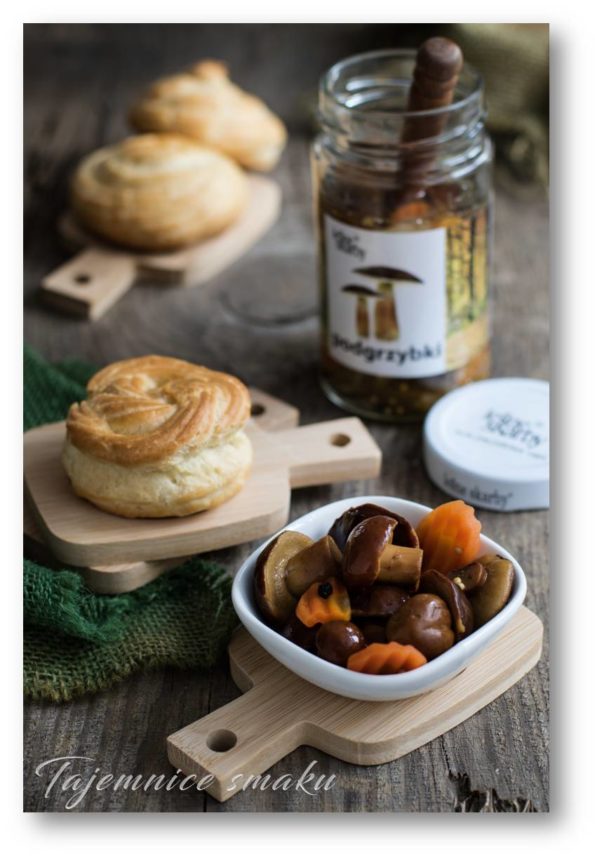 I recommend using the choux pastry to bake puffs and fill them with an egg salad with cottage cheese and marinated mushrooms. I used marinated boletes for the salad  Forest Treasures. The salad can be prepared well in advance and cooled in the fridge. We serve the ready dish in two ways. Either, just before serving, we cut the puffs and fill them with salad, or let the guests at the table prepare the snack themselves. Such a salad is a nice idea for an egg dish on the Easter table.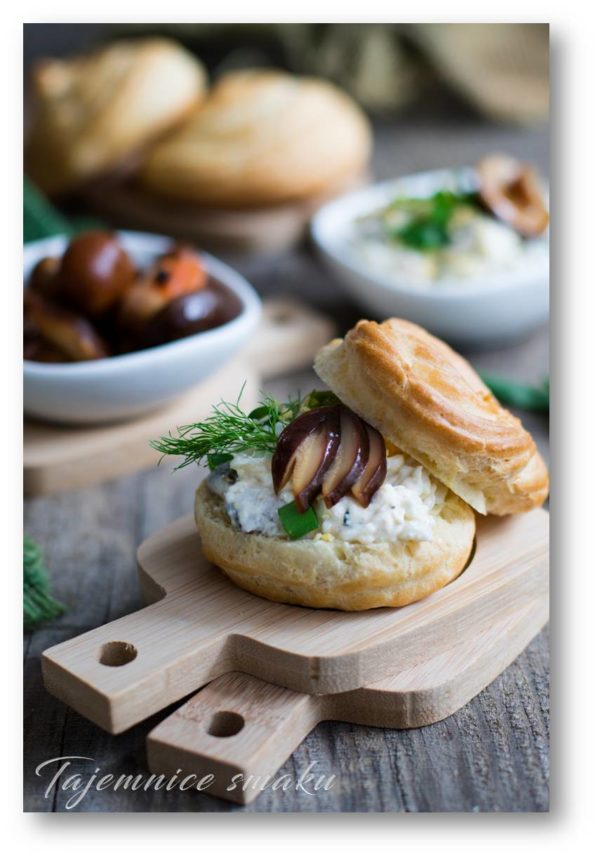 Ingredients
POTIES
200 g flour
250 ​​ml of water
100 g of butter
4 eggs
pinch of salt
SALA
5 eggs
200 g of semi-fat cottage cheese
1 - 2 shallots or red onions
2 tablespoons of natural yogurt
1 - 2 tablespoons of mayonnaise
a jar of marinated mushrooms (about 120 g of mushrooms after draining from the brine) - for me it's marinated boletes Forest treasures
a tablespoon of chopped fresh dill and chives
salt, pepper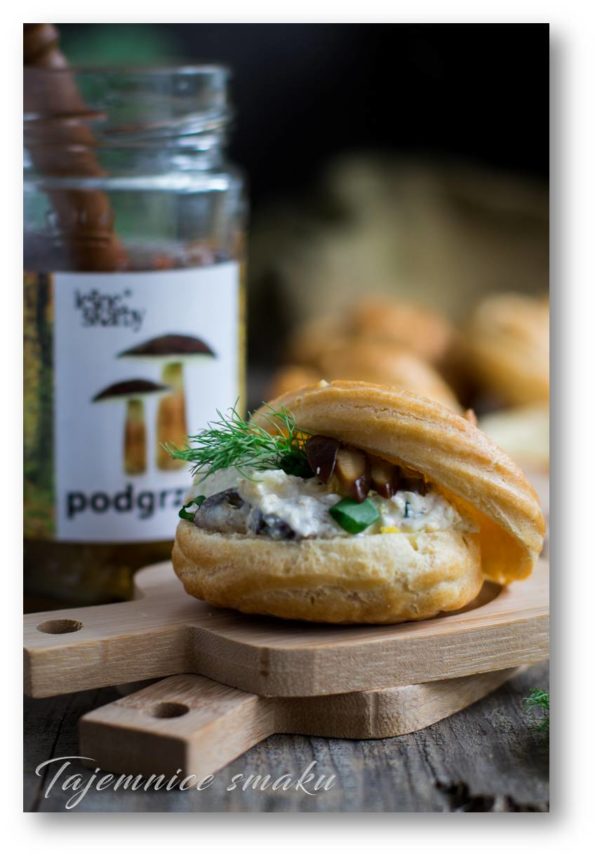 Execution
POTIES
Boil water in a pot butter and a pinch of salt. Pour the flour into the boiling water, reduce the heat and beat vigorously until the dough is shiny and smooth and starts to pull away from the walls of the pot. We test the dough and transfer to the mixer. Crack in the eggs one at a time, mixing thoroughly after each adding. A soft and plastic dough fill a pastry bag and squeeze onto a baking tray lined with baking paper round pieces of cake. Bake for 20 - 30 minutes in an oven heated to 200°C. We cool on the grate.
SALA
Hard-boiled eggs, cooled, peeled, we cut into cubes. Crumble the cottage cheese with a fork. Cut the peeled shallot into small pieces ankle. Drain the marinated boletes thoroughly from the brine and slice thinly stripes. Mix gently in the bowl mix all salad ingredients, season with salt and pepper. Cut the birds into half and fill with salad.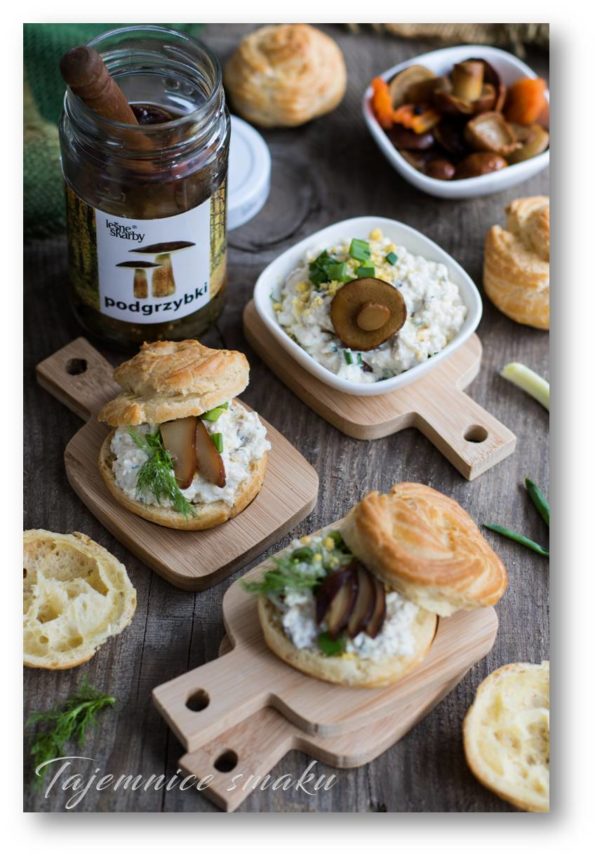 Enjoy!
also check
Comments