Fruit cake - cherries and blueberries under a delicate quilt of shortcrust pastry - paj or tart
It was supposed to be a perfect English pudding with fruit, and it turned out more tart, also excellent. I misjudged the diameter of the mold and used too large, so there was not enough dough to cover the fruit. I fiddled with what I had left over and it turned out the way it did. The important thing is that everyone liked it, and the cake from the mold disappeared in the blink of an eye.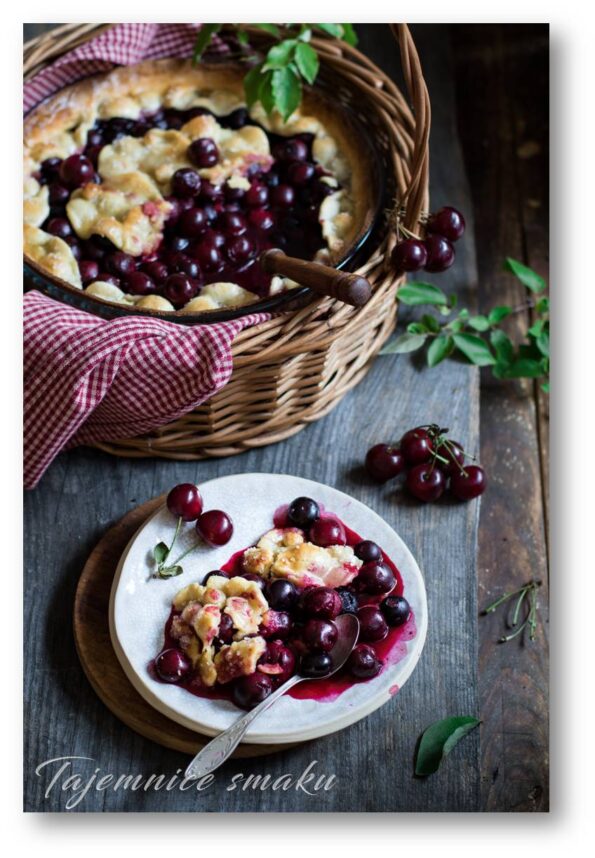 The recipe is given as it should be, because it comes from the book by Nigel Slater Green Feast. I love to be inspired, especially from someone with such a refined taste!
Returning to the mold, the best would be one with a rim, about 26 cm in diameter, but a tart mold can also be used.
INGREDIENTS
CAKE
wheat flour 230 g
butter 140 g
powdered sugar 50 g
large yolk
broken egg spreads
FILLING
cherries 800 g
blueberries 200 g
potato starch 3 tbsp
lemon< /li>
sugar 100 g
EXECUTION
Put the flour and butter in pieces into a food processor and mix to obtain the consistency of breadcrumbs.
Add powdered sugar and egg yolk, mix for a while and knead the dough by hand.
We form a ball, wrap it with cling film and put it in the fridge for about 30 minutes.
Pest the cherries, put them in a bowl, add blueberries, potato starch, grated rind and lemon juice. Stir and set aside.
Preheat the oven to 200°C.
Divide the dough in half.
Roll out a circle from one half and cover the bottom of the mold, together with the rim, do not cut off the excess, for now.
Mix the filling again and put it on the dough, leaving a clean edge, which we grease with a beaten egg.
Roll out the other half of the dough, also into a circle and cover the fruit, pressing firmly around the edge to seal it.
Cut off the excess dough, we can cut out pins, leaves and decorate the cake.
Smear the whole thing with egg and sprinkle with sugar, make a small hole in the middle so that the steam can escape.
Put in the oven and bake for about 30 minutes until golden.
Inspiration - Nigel Slater - A green treat spring summer
also check
Comments