Chocolate cake with guinness, nuts and mascarpone cream
I don't like dark beer, so I was curious how a cake with it might taste. It turns out that it is very delicious, moist and full of chocolate flavor with a hint of dark beer in the background. It's a very easy and simple cake and... you can't get drunk ;-)
The cake is even tastier when combined with cream and mascarpone cream. This combination is absolutely perfect!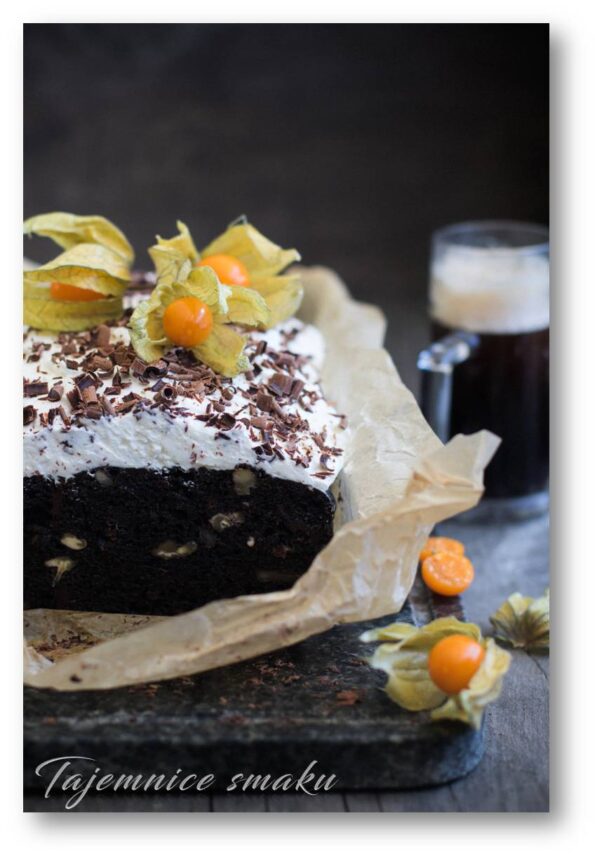 Ingredients
CAKE
250 ​​g flour type 500
20 g black cocoa
1/2 teaspoon of soda
1/2 teaspoon baking powder
pinch of salt
50 g dark chocolate 70%
50 g of walnuts
25 g of raisins
150 g of butter
120g of sugar
3 eggs
250 ​​ml of dark Guinness beer
CREAM
150g mascarpone
150 g of 30% cream
2 tablespoons of powdered sugar
1 teaspoon of lemon juice
Execution
CREAM
Mascarpone cheese and cream should be well chilled before whipping. A good way is to put them in the freezer 10 minutes before whipping.
In a large bowl, mix all the ingredients and beat until creamy, store in a covered bowl in the fridge.
CAKE
Line a cake tin or other mold with baking paper (mine is 23 x 13 cm). We heat the oven to 180°C.
Chocolate and nuts are chopped into thicker pieces.
In one bowl, mix the dry ingredients: flour, black cocoa, baking powder, baking soda, salt. Finally, add raisins, chopped nuts and chocolate.
In the second bowl, cream the butter and sugar, add the eggs and beat for a while. Finally, pour in the beer and mix for a while until all the ingredients are combined. Pour the wet into the dry and gently, preferably with a silicone spatula, mix the ingredients just until combined. Pour the batter into the mold and place it in the preheated oven. Bake for about 45 minutes at 180°C until a toothpick comes out dry. We cool on the grate.
We decorate the cooled cake with cream. We can cover it with fruit, Peruvian physalis and  chocolate shavings go well.
Enjoy!
also check
Comments