Colorful cake with matcha tea, turmeric and cocoa. Three-color cake for Easter
I'm sure most of you know a two-colored lady with a nice name Zebra. The idea for a colorful grandmother was created on the basis of this recipe. I just named the new one Tricolor because there is no yellow, green, and dark striped zebra.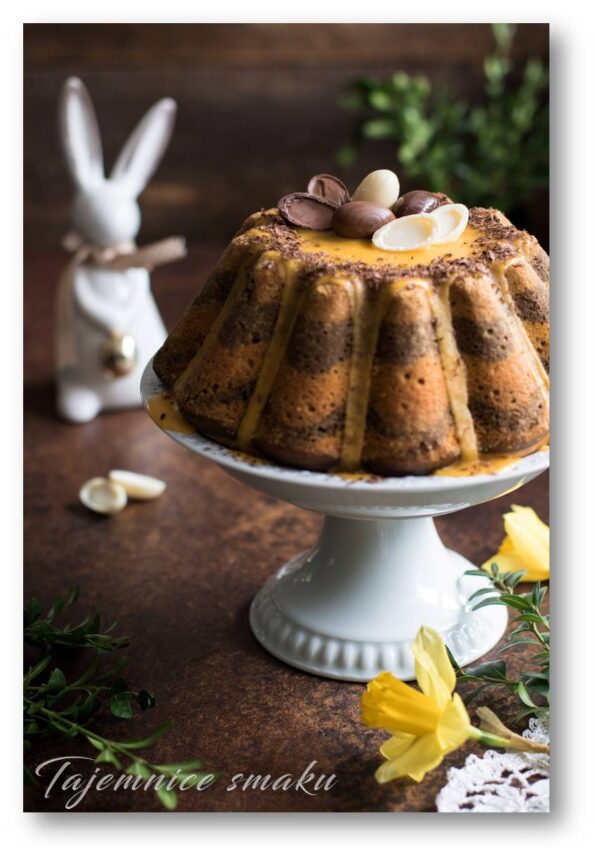 I invite you for a tasty three-color Easter cupcake. Let these spring colors bring a lot of joy to your kitchen.
INGREDIENTS
Grandmother
400 g cake flour type 450 It's the one!
250 g of sugar
5 "L" eggs
pinch of salt
2 teaspoons of baking powder
250 ml of oil
250 ml of sparkling water (can be plain)
1.5 teaspoons of matcha tea
1.5 tsp black cocoa (can be dark)
1 teaspoon vanilla pudding powder
0.5 teaspoon turmeric powder
YELLOW ICE
100 g powdered sugar
1/4 teaspoon turmeric powder
about 10 ml of lemon juice
chocolate eggs to decorate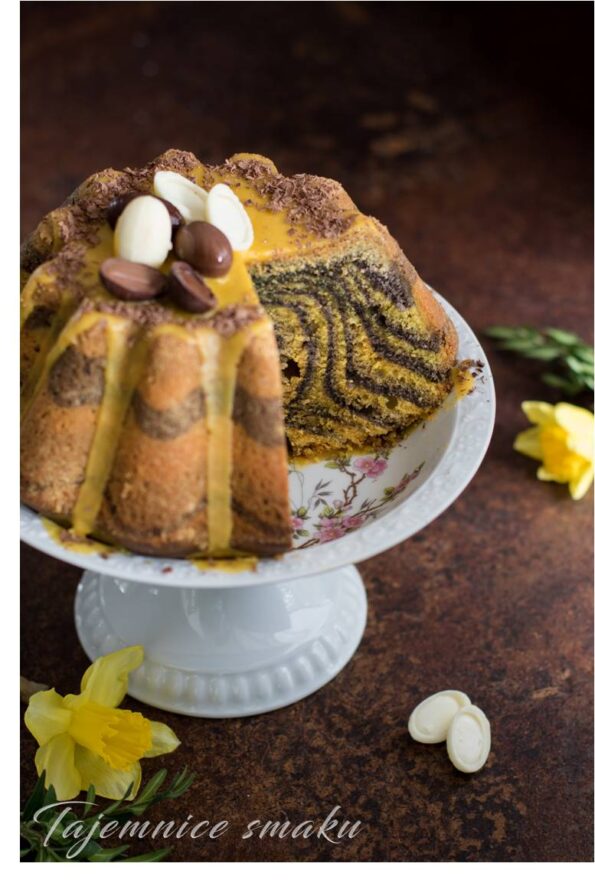 EXECUTION
Mix flour with baking powder and sift through a sieve.
Separate the whites from the yolks.
Whip egg whites with a pinch of salt, at the end of whipping, gradually add sugar.
Once you get a shiny foam, don't stop whipping and add one egg yolk at a time.
We replace the robot's stirrer with a wooden or silicone spoon.
Now we start to add flour to the dough in 3 - 4 turns, alternating with oil and water.
Mix very gently after adding each portion of the set, just until the ingredients are combined.
Divide the dough into 3 equal portions and dye each in a different color.
I recommend sifting the "dyes" through a sieve, evenly over the surface of the cake. This makes it easier and faster to combine colorful additions with the basic dough.
To the yellow cake we add turmeric and vanilla pudding, to the green matcha tea, to the dark cocoa.
Mix portions of the dough very gently with colored powders.
Smear the mold for the cake with butter and sprinkle with coarse flour or breadcrumbs.
Preheat the oven to 160°C.
We put 2 - 3 tablespoons of yellow dough in the center of the mold, a portion of dark dough on top, and green dough at the end. Repeat this operation (in the order of colors at your discretion) until the entire dough is used up.
Bake the cake for 20 minutes at 160°C, then increase the temperature to 180°C and bake for another 30 - 40 minutes until a toothpick comes out dry.
Take the baked cake carefully out of the mold and let it cool down on a wire rack.
Cool the cooled cake with icing or chocolate, I suggest yellow icing with turmeric.
Yellow frosting. Mix powdered sugar thoroughly with turmeric, add lemon juice, mix and pour over cooled cake.
We can decorate the cake with chocolate eggs and grated chocolate.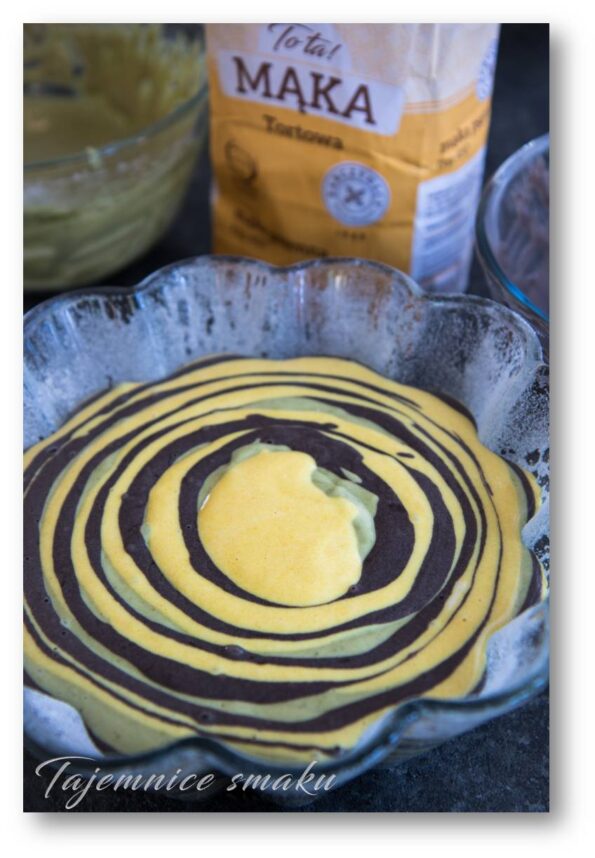 also check
Comments