Masters of pasta. The art of making pasta, gnocchi and risotto by hand. Marc Verti, David Joachim
"Simple ingredients and a little love are all you need to make your own perfect pasta dough" -  Jamie Oliver
For many people, making fresh pasta seems like a challenge. However, I don't think it has to be that way. Preparing pasta at home is not so difficult, what's more, it can be quite enjoyable.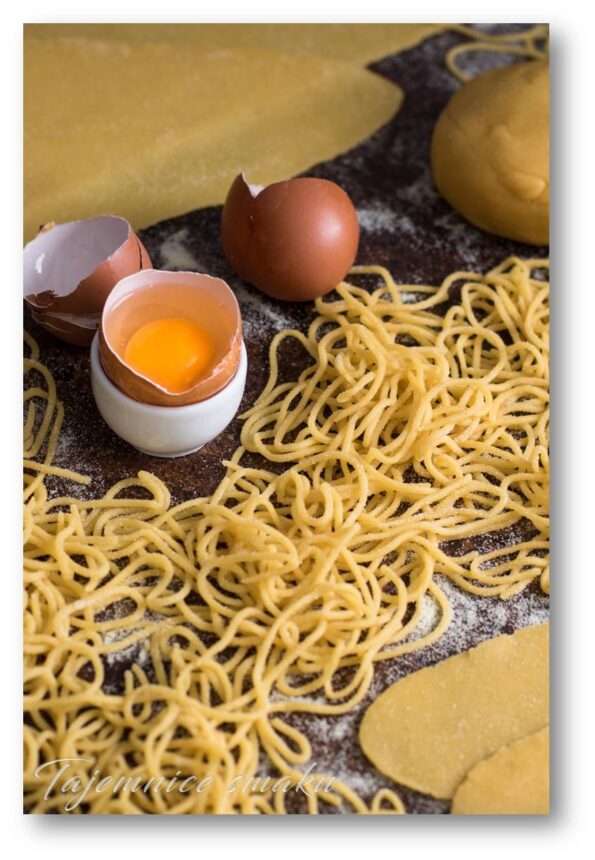 Many pasta recipes call for all-purpose flour. However, I recommend trying to prepare semolina flour pasta. Semolina flour is made from coarsely ground durum wheat, which is popular in Italian and Moroccan cuisine. It resembles fine porridge, is characterized by a straw-yellow color that colors the products prepared from it, as well as gives them a characteristic taste and smell. semolina flour can be bought in larger stores or online, e.g. in Kuchnieświat.
Homemade whole egg and semolina pasta with olive oil
Ingredients
420g semolina
4 eggs
30ml olive oil
1 - 3 tablespoons of water (if needed)
Execution
Pour the flour onto the pastry board or into the bowl of the robot with the tip for kneading pasta. Make a well in the flour and add the eggs and oil. Stir the dough until the ingredients are combined. In case of difficulties, add 1 tablespoon of water and continue mixing. Knead the dough for about 5 minutes until it is smooth and silky.
Use the dough to form a ball and flatten it into a disk. Cover and leave for at least 30 minutes or wrap in cling film and put in the fridge. The cake can be stored in the fridge for up to 3 days or in the freezer for up to 3 months (the day before the planned use, we put it in the fridge).
To roll out the dough, divide it into 4 - 6 parts. Cover the portions of the dough that are not rolled out with a bowl or cling film so that they do not dry out on top. A practical solution at this stage is a machine for rolling and cutting pasta. If we don't have it, we need a rolling pin and a knife. Roll out the dough as thin as possible on a lightly floured board. Roll the rolled out cake into a cylinder and cut thin strips with a sharp knife.
If you don't cook the pasta right away, sprinkle it with flour and spread it loosely in a single layer on trays and freeze. Transfer frozen pasta to bags. To cook it later, just throw the frozen pasta directly into boiling water.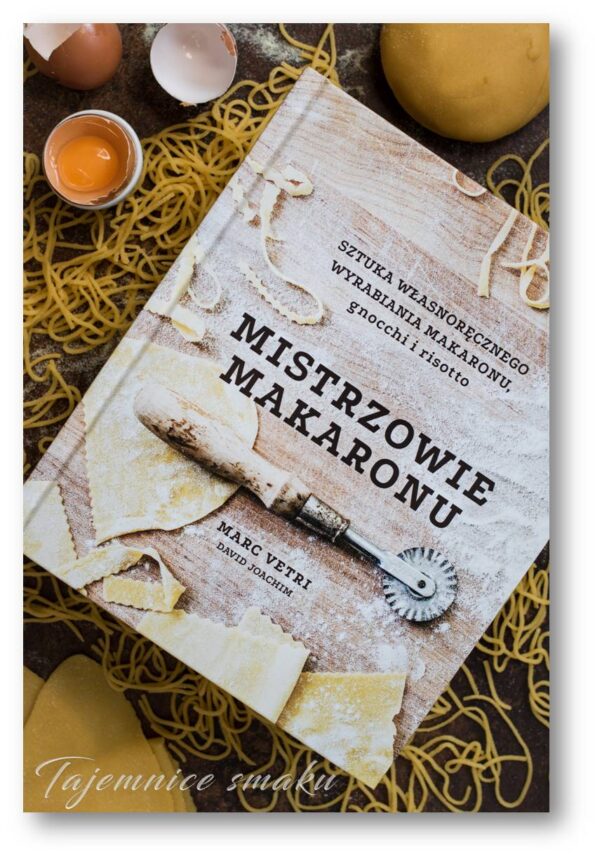 The recipe for homemade pasta with whole eggs and semolina with olive oil comes from the book Masters of pasta The art of making pasta, gnocchi and risotto by yourself. Mark Vetri, David Joachim. This book is not just a collection of fantastic recipes. It's, as Jamie Oliver put it, "a veritable macaroni bible, and wonderfully written."
Vetri, a true master of Italian cuisine, decided to share his knowledge about pasta, gnocchi and risotto with us. In his manual he included a lot of professional advice and professional tricks. In addition to simple and detailed instructions for preparing and serving pasta, gnocchi and risotto, the book also includes the author's stories about his Italian travels and culinary discoveries.
Particularly noteworthy are the perfectly illustrated pasta-making techniques. Great photos of the preparation process and ready meals will not only stimulate our appetite, but also encourage us to act.
Masters of pasta The art of making pasta, gnocchi and risotto by hand, Marc Vetri, David Joachim
The secrets of making over thirty different types of dough and a whole range of flavored pasta.
Recipes for great stuffed and baked pasta and perfectly composed sauces. em>
Inspiring experiments with different types of flour.
Become a pasta master in your kitchen!
Thank you to Znak publishing house for providing me with a copy of the book for review.
also check
Comments