<! - wp: heading ->
Fresh figs, basil leaves, mini mozzarella and long-maturing ham - snacks
<! - / wp: heading ->
We can prepare larger quantities of cookies with figs, mozzarella and ham, which is a great idea for party snacks. These little donuts topped with balsamic vinegar or dressing are nothing more than a salad on a stick ;-)
<! - wp: image {"id": 4299, "sizeSlug": "medium", "linkDestination": "none", "className": "is-style-default"} ->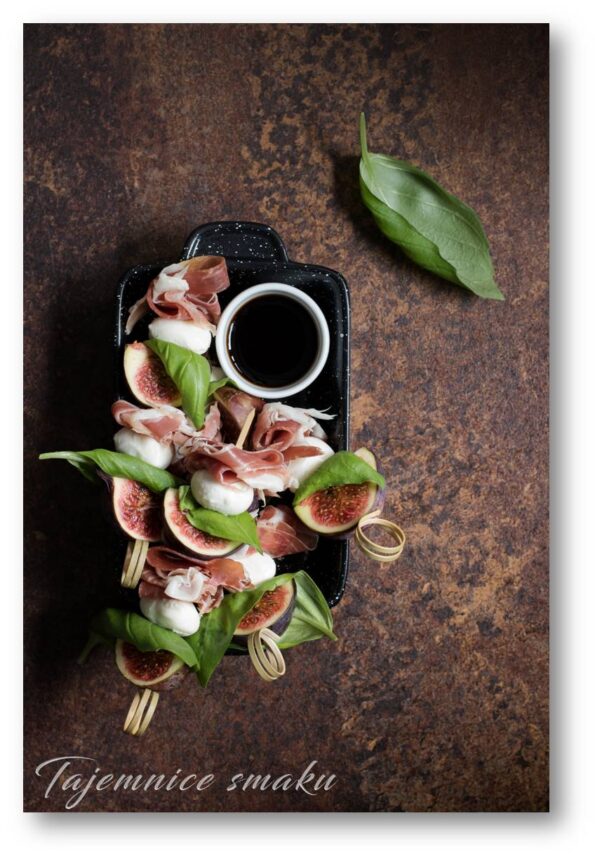 <! - / wp: image ->
The idea for these finger foods comes from the book "Lunchbox for every day - Fit bento". In one of the bento sets, Malwina offers, among other things, such cookies. This is set # 33, and it includes: Mexican beans, rice, fig, mozzarella and ham rolls and grapes for a snack.
Ingredients
2 briefs
8 balls of mini mozzarella
3 - 4 slices of long-ripening ham
a few fresh basil leaves
balsamic vinegar to drizzle (optional)
4 - 8 skewers
Execution
Cut the figs into quarters, slice the ham or break it into smaller pieces.
On each toothpick, add a quarter of figs, a basil leaf, a ball of mini mozzarella and pieces of rolled ham. My sticks are longer so I loaded a second batch.
I recommend that you sprinkle them with balsamic vinegar just before eating, it can be classic balsamic vinegar or thick, creamy vinegar. The cakes taste good also sprinkled with salad dressing prepared, for example, with olive oil, mustard, honey, crushed garlic and lemon juice.
also check
Comments