Sweet potatoes, asparagus, chicken - a quick lunch or dinner from the oven. Fried and baked chicken with vegetables
Chicken with sweet potatoes and green asparagus is an idea for a simple, quick and very tasty dinner.
We start preparing the dish on the burner and finish it in the oven. Therefore, it is worth using a frying pan or a cast iron pot that can be used in the oven.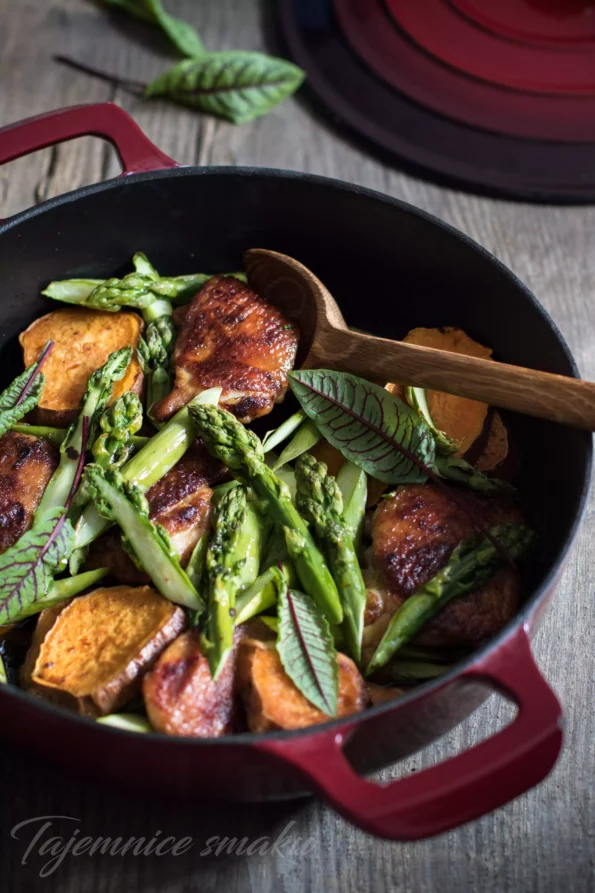 Out of the asparagus season, we can add green beans, young pea pods or mushrooms and onions to chicken and sweet potatoes.
We can fry and bake chicken legs with or without bones, I usually cut them out. If the drumsticks are fresh, I freeze the bones for later. If defrosted, I prepare the broth right away and plan a dish for the next day on its basis.
INGREDIENTS
5 - 6 chicken thighs, boneless but with skin on
1 large sweet potato
a bunch of green asparagus
salt
pepper
sweet paprika powder
oil
EXECUTION
Preheat the oven to 200°C.
Dry the chicken well with a paper towel and season with salt, pepper and paprika.
Scrub the sweet potatoes and cut them into thick slices or pieces. Drizzle with oil, lightly salt and pepper.
In a frying pan or cast-iron pan, suitable for the oven, heat a tablespoon of oil over medium heat. Place the chicken, skin side down, in the pan and cook slowly for about 5 minutes.
When the skin is slightly browned and some fat melts, add the sweet potato. Place the slices on the pan between the pieces of chicken.
Put the pan into the preheated oven and bake for about 30 minutes.
Then add the asparagus, turn the chicken skin side up and bake the whole thing for about 15 minutes, until the sweet potatoes and asparagus are soft.
also check
Comments