Beef meatballs in a salad with pasta, spinach and cherry tomatoes. Pasta salad for lunch, dinner or party.
Pasta salad with tomatoes, spinach, meatballs and a delicious mint sauce is a perfect dish for lunch, dinner or a home party.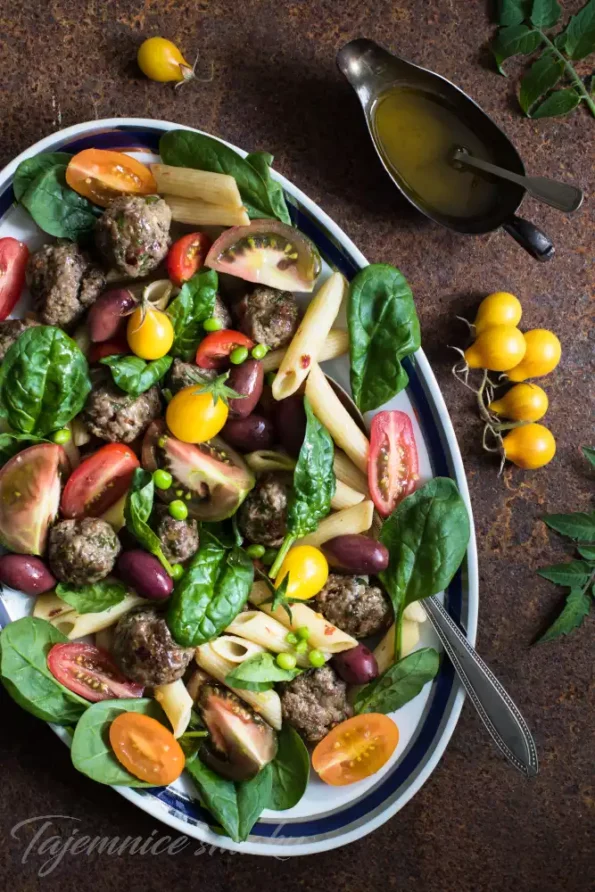 For the salad, I recommend using pasta about the same size as the tomatoes and meatballs. The dish will be easier to eat. There is penne in my salad, but drills, tubes, elbows, bows, rigatoni, orecchiette or fusilli will also be a good option.
Such a salad is also a great idea to use up surplus pasta cooked the previous day.
INGREDIENTSfor 4 - 5 people
500 g of good quality minced beef
1 handful of chopped parsley
2 cloves of garlic
1/2 teaspoon hot pepper flakes
2 tablespoons of oil
salt
pepper
2 - 3 handfuls of spinach leaves
200 g of penne or other pasta
200 g cherry tomatoes
2 tablespoons of olives
3 tablespoons of lemon juice
1 tbsp chopped mint leaves
5 tablespoons of olive oil
optional, cooked baby beans or broad beans when in season
EXECUTION
Grate the peeled garlic finely or press it through a press.
Wash the parsley, dry it and finely chop it.
Spice the minced meat with garlic, chilli, parsley, salt and pepper.
From the seasoned and mixed mass of minced meat, with slightly moistened hands, form balls the size of a walnut.
Heat 2 tablespoons of oil in a frying pan.
Fry the meatballs over medium heat for about 5 minutes, until they are golden brown on the outside and not raw inside.
Cook the pasta according to the instructions on the package.
Rinse the cooked pasta with cold water in a colander and drain.
Put the pasta into a bowl, add 2 tablespoons of olive oil, mix and set aside.
Cut the tomatoes in half and add to the pasta.
Washed and dried spinach leaves are also added to the pasta.
Mix the remaining olive oil with lemon juice and mint in a bowl, season with salt and pepper.
At the end, add olives and meatballs to the pasta and drizzle with the prepared dressing.
also check
Comments