Salad of green leaves, baked sweet potatoes with crispy chickpeas, tahini sauce and dried cranberries. Salad with sesame sauce, sweet potatoes and chickpeas - recipe from the book Potato, confession of love
The recipe for green leaves, baked sweet potatoes and chickpeas salad is a real hit! This salad is great for lunch or dinner, as well as an addition to other dishes. Perfect for grilled or roasted meats.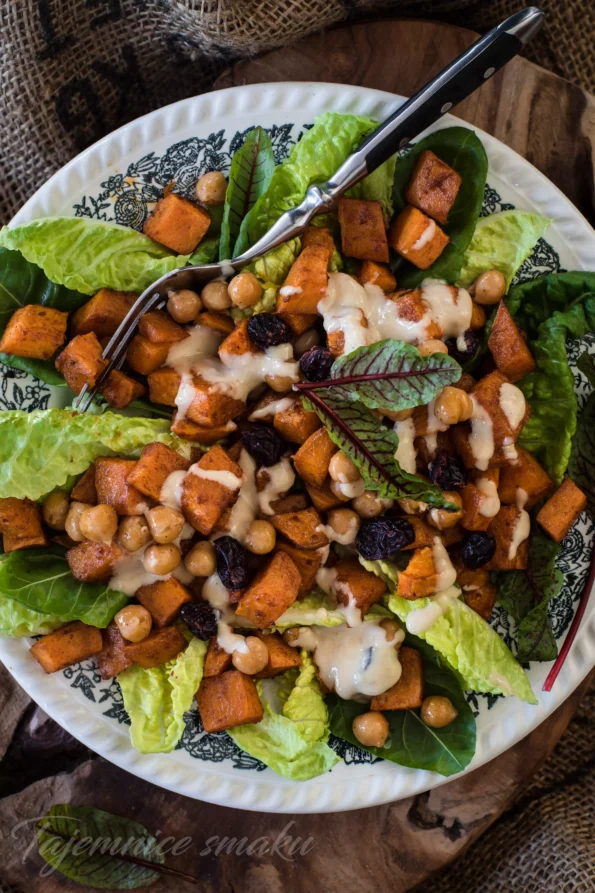 The recipe for sweet potato salad with crispy chickpeas and tahini sauce comes from the book by Ina-Janine Johansen Ziemniak , declaration of love.
I give the ingredients according to the book recipe, only the tahini sauce I diluted with lemon juice instead of water, because I like more sour dressings. Ingredients for 4 - 6 servings, depending on the intended use of the dish.
INGREDIENTS
1 kg of sweet potatoes, peeled and roughly diced
2 - 3 tablespoons of olive oil
2 tablespoons of dried and ground smoked paprika
1 tablespoon of ground cumin - cumin
1/2 teaspoon chilli flakes or ground
1 tablespoon of coarse or flake salt
1 can or jar of pickled chickpeas
200 g green leaves, e.g. a mix of kale, spinach, arugula, lettuce, etc
a large handful of dried cranberries
100ml tahini
50 ml of lemon juice
2 tablespoons of maple syrup
1 garlic clove, finely grated
salt
EXECUTION
Mix sweet potatoes cut into thick cubes with olive oil, smoked paprika, cumin, chili and coarse salt.
Spiced sweet potatoes are spread in one layer on a baking tray lined with baking paper and placed in a preheated oven to 180°C for 20 - 30 minutes.
Bake sweet potatoes until soft, it's good to turn the cubes during baking.
Remove the baked sweet potatoes from the baking sheet to a platter and leave to cool.
Drain the chickpeas from the brine and rinse them in a sieve under running water.
The well-drained chickpeas are poured onto a sweet potato plate, on which there are spices and fat left after baking.
If necessary, sprinkle additional olive oil and bake at 180°C for about 20 minutes, until the chickpeas are slightly crispy.
We are preparing the tahini sauce. Mix tahini paste with lemon juice, maple syrup and grated garlic clove, season with salt. If the consistency is still too thick, dilute the sauce with water or lemon juice, at your discretion and taste.
We spread the green leaves on several smaller plates or one large platter.
Spread baked sweet potatoes, chickpeas on the leaves and sprinkle with cranberries.
Serve the sauce in a separate bowl or pour over the salad just before serving.
also check
Comments