<! - wp: image {"align": "center", "id": 1432, "className": "is-style-default"} ->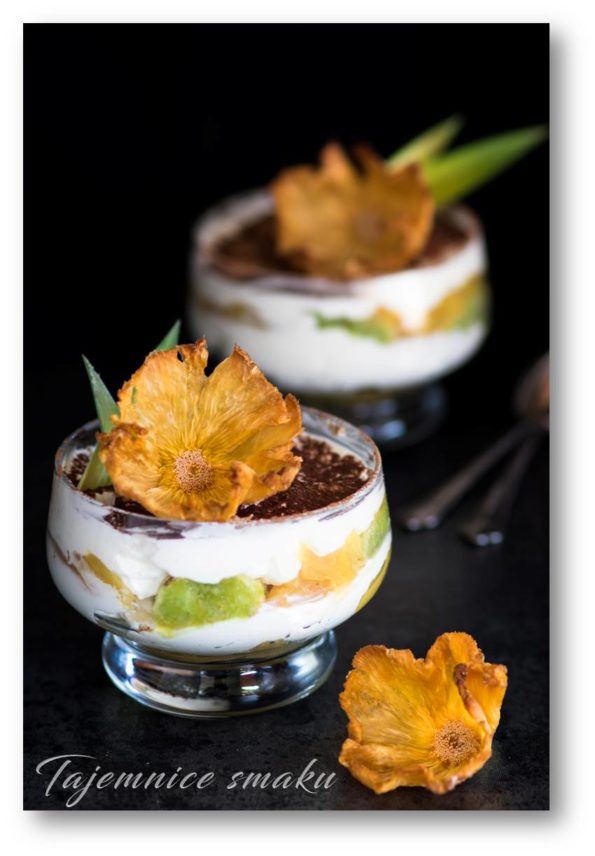 <! - / wp: image ->
Pineapples are the perfect addition to desserts. They can only be an addition, but they can also be the protagonist of the whole dessert. Such a dessert can be prepared from canned pineapples, but fresh fruit has a much deeper flavor and from the whole fruit we can prepare not only the base for the dessert, but also the decoration!
Pineapple flowers - a decoration that looks phenomenal.
We can use them for decoration, but they will also work as a delicious pineapple snack, such a sweet chip.
Ingredients
1 fresh pineapple
1/2 lemon juice
1 tablespoon of cane sugar
pinch of cinnamon
12 pieces of elongated biscuits
the juice of 2 oranges
15 ml of Blue Curaçao liqueur or non-alcoholic blue bartender syrup
200 ml of 36% cream
250 g of mascarpone
30 g of powdered sugar
cocoa to sprinkle on dessert
Execution
Peel the pineapple, cut the eyes, cut it crosswise.
FLOWERS FOR DECORATION
Half of the pineapple is cut into very thin slices and placed on a baking sheet lined with baking paper. We dry it in the oven at 100 ° C for about 1.5 hours. The drying time depends on the thickness of the slices and the juiciness of the pineapple. Transfer the slices to the other side every half an hour. Then put the pineapple slices into muffin molds, thus forming flowers. Dry in the molds for about 30 minutes, also at 100 ° C. Leave to cool down.
PINEAPPLE FOR DESSERT
Cut the other half of the pineapple into 1 cm thick slices. Cut out the hardened center and cut the fruit into small pieces.
Sprinkle the pineapple pieces with sugar, add lemon juice and cinnamon, bring to a boil and heat over low heat for about 10 - 15 minutes, then let it cool down.
PONCH
Orange juice is mixed with Blue Curaçao liqueur or with its non-alcoholic equivalent, blue bartender syrup. We will get the punch in a green color.
CREAM
Whip the well-chilled cream and mascarpone, add the powdered sugar, beat for a while.
DESSERT
Put half of the cream on the bottom of the cups. Then put the biscuits soaked in green punch. Put pineapples on the biscuits and top them up with a layer of cream. We can also prepare a dessert in one large form. Put in the fridge for a few hours, preferably overnight. Before serving, sprinkle the cocoa powder and decorate with pineapple flowers.
Enjoy your meal!
also check
Comments