Roasted eggplant, tahini, lemon juice, garlic - baba ghanoush. Vegetarian baked eggplant paste
Baba ghanoush, or toasted eggplant paste, is right after hummus the most famous and popular Middle Eastern mezze.
Mezze is a term for a large selection of entrees. These are small portions of salads, pickles, cold cuts, pastes. They are served on many plates and can be prepared in advance as they are served at room temperature.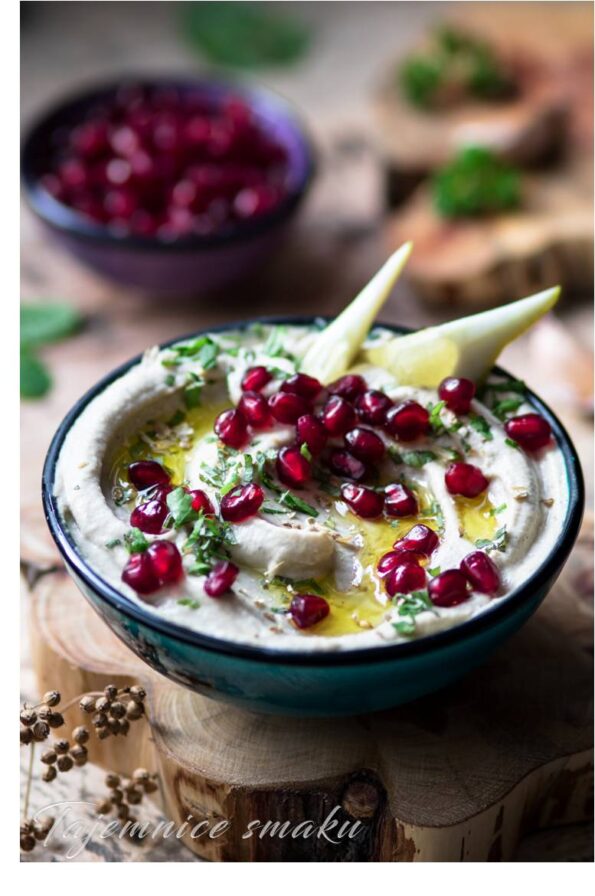 Aubergine is also known by other names as aubergine, love pear, bush egg and bakman. Baking eggplants is, in my opinion, the best method of processing them. The baked flesh can be used in many ways: in stews, soups, spreads, salads, and also as an ingredient of a delicious brownie.
INGREDIENTS
2 eggplants
2 tablespoons of olive oil plus to serve
1 clove of garlic
2 - 3 tablespoons of tahini (tahini - sesame paste)
juice of 1 lemon
salt
pepper
chilli
ground or crushed coriander seeds
2 tablespoons chopped mint and parsley
pomegranate seeds
EXECUTION
Slice the eggplants in half lengthwise.
We cut the pulp in a checkered pattern, deeply, being careful not to cut the skin.
Slightly salt each cut half and leave for about 10 minutes.
Preheat the oven to 200/220°C.
When the salted eggplants release their juice, wipe them with a paper towel.
Then, sprinkle with olive oil, rub it into the pulp and place on a baking sheet lined with paper, cut side down.
Bake for about 30 - 40 minutes, let cool.
Peel the skin or use a spoon to gently scrape out the pulp.
Discard the skin and transfer the eggplant flesh to a sieve to drain.
Put the drained pulp into a blender, add garlic, sesame paste, tahina and lemon juice.
Mix until smooth.
Season with salt, pepper, chili and coriander.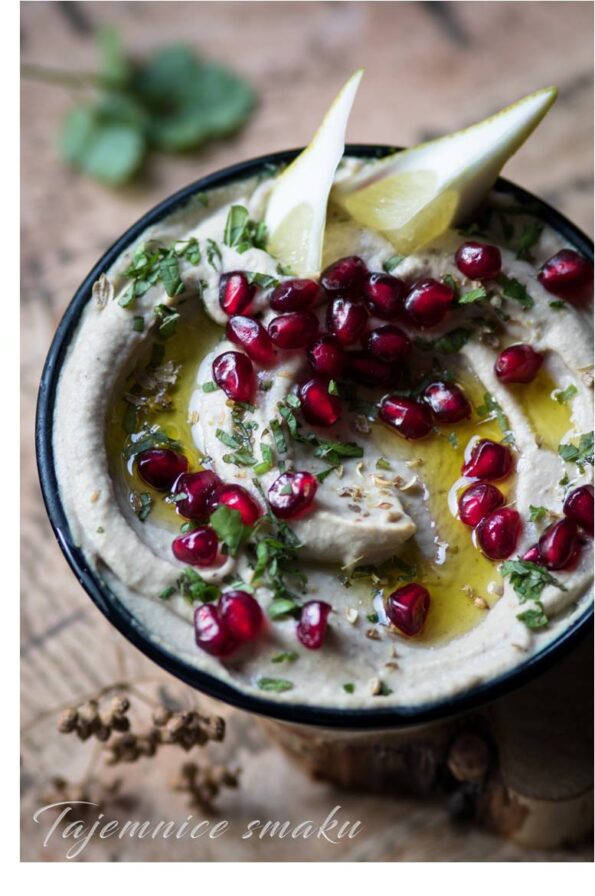 Baba ghanoush or eggplant paste is served in a bowl, poured with olive oil, sprinkled with pomegranate seeds and chopped herbs - parsley and mint.
also check
Comments