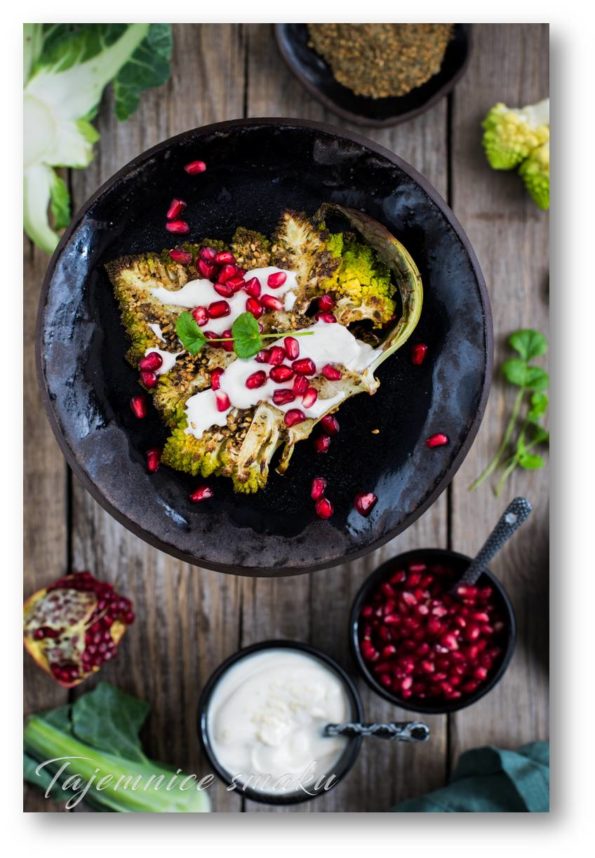 Roasted romanesco cauliflower is an idea for a vegetable and quick snack. Such vegetable steaks can also be an addition to groats, potatoes, rice and we have a complete dinner dish.
Why cauliflower steaks? After all, we don't have to cut the cauliflower into slices and combine, we can divide the cauliflower into florets and bake it in the same way, but...
Cauliflower is a beautiful vegetable, and when cut in this way, it captivates with its shape and texture. That's why once in a while let's admire its beauty and eat "cauliflower steaks"!
Steaks can be prepared with all types of cauliflower, white, purple, green, yellow or, like me, with the impressive green Romanesco cauliflower.
The main spice in this dish is za'atar, a spice mix that includes sesame seeds, thyme, oregano, and sumac. We can prepare such a mixture ourselves or buy a ready-made one. You can find the za'atar (za'atar, zathar) mix in online stores, e.g. w Cuisins of the World.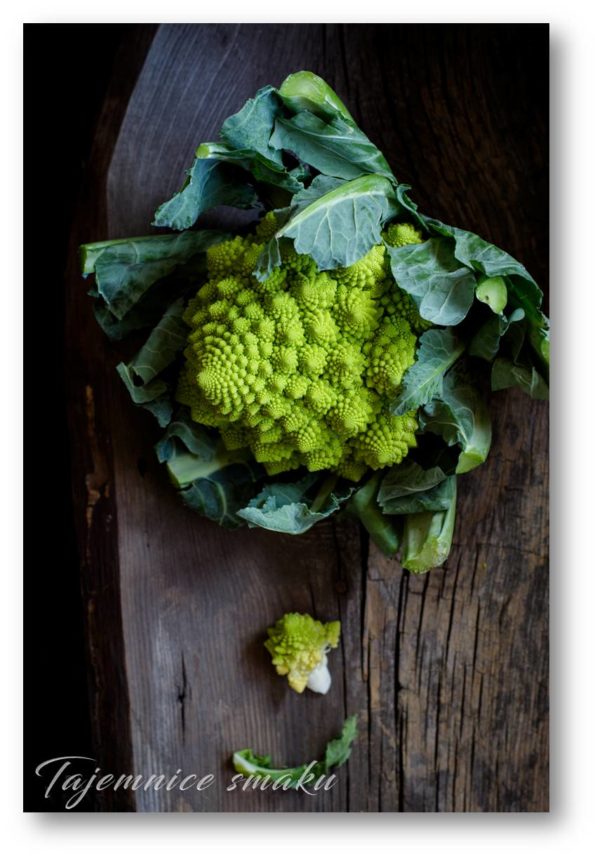 Ingredients
CAULIFLOWER
1 cauliflower
1 tablespoon of za'atar spice
1 garlic clove
2 teaspoons of olive oil
salt
pepper
SOS
100 ml of natural yoghurt
1 tablespoon of lemon juice
1 teaspoon tahini sesame paste
salt
pepper
pomegranate seeds
fresh cilantro
Execution
TAHINI SAUCE
In a bowl, mix tahini paste, yoghurt, lemon juice and season salt and pepper. We put it in the fridge.
Cauliflower "STEAKS"
Remove the outer leaves and use a sharp, large knife cut the cauliflower in half from above. Cut a thick steak from each half about 1.5 cm. If the cauliflower is large, you can try to cut it after one steak on each side. Seal the remaining cauliflower florets in an airtight container container and set aside for another dish.
In a bowl, mix the olive oil, crushed garlic and za'atar spice. Place the cauliflower steaks on a baking tray lined with baking paper and grease both sides with the zatar mixture. Season with salt and pepper. Roast the cauliflowers for about 25 minutes preheated oven to 190°C, turning halfway through baking other side.
Ready cauliflower "steaks" are served with yoghurt tahini sauce, pomegranate seeds and fresh coriander.
Enjoy!
also check
Comments