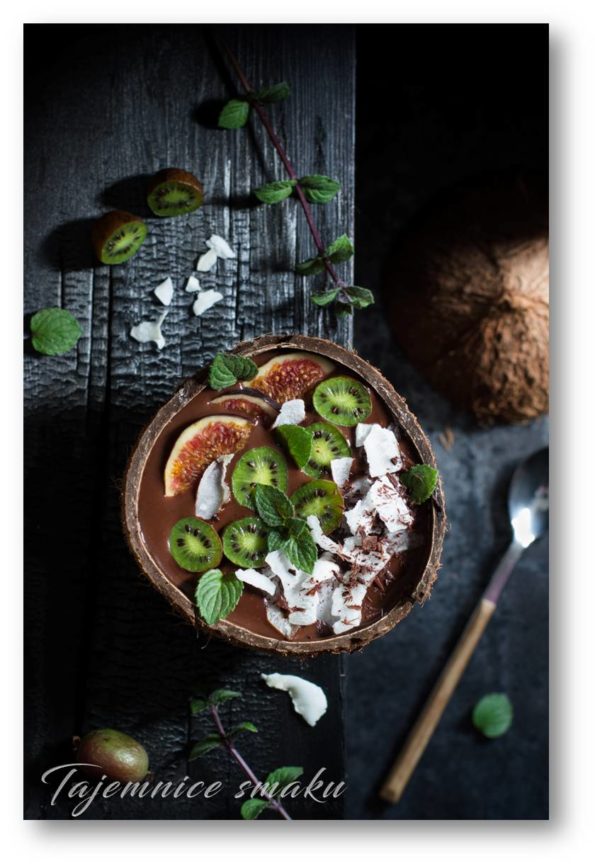 Is it possible to prepare pudding without milk? It turns out that yes, if we replace cow's milk with so-called coconut milk, i.e. a drink prepared from coconut flesh and water.
Such a pudding is a great idea for a dessert for people who do not tolerate or do not want to drink cow's milk. However, for people who can drink cow's milk, it is an incentive to experiment in the kitchen and discover new flavors.
The pudding is very delicious, easy to prepare and very...chocolate!
Ingredients
50 g dark chocolate 70% cocoa content
400ml coconut milk
100 ml of water
25g coconut sugar
25 - 30 g of potato starch
To serve  - fruit, coconut shavings, grated chocolate
Execution
Chocolate finely.
Mix water, potato starch and sugar in a cup.
Pour the coconut milk into a saucepan and heat it up. Add the chopped chocolate to the hot mixture and stir until the chocolate melts. Add water mixed with sugar and potato starch. Cook until the mass thickens. While cooking, stir all the time, preferably with a whisk, so that there are no lumps and noodles. Pour the ready pudding into cups or bowls.
We serve the pudding hot or cooled down, as you like. We can cover the dessert with fruit, sprinkle with coconut flakes or grated dark chocolate.
Enjoy!
also check
Comments