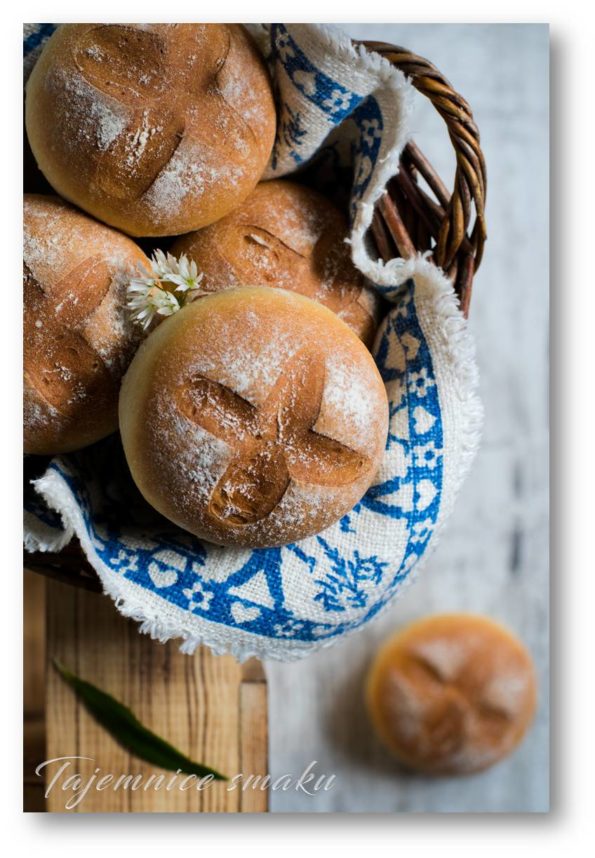 From the series "Baking for breakfast"*. This time, a proposal to bake rolls together using the salt and yeast method. I was intrigued by this recipe, because how is it possible - salt, water, yeast? And yet you can. The rolls are very easy to make, they rise nicely, are fluffy, soft and tasty.
Recipe from the blog Matka Wariatka.net , I changed flour type 650 to bread type 750, because that was what was at home.
Ingredientson 12 rolls
SALT AND YEAST SOLUTION
100 grams of water
10g of salt
10 g of fresh yeast
CAKE
500 g of wheat flour type 750
200g of water
15 g of liquid honey
10 g of butter
salt and yeast solution
Execution
SALT AND YEAST SOLUTION
The day before baking, pour water into the jar, add salt, we close the jar. Stir until the salt dissolves, then add the yeast Close the jar again and stir until dissolved. Place the jar with the solution in the fridge overnight.
CAKE
The next day, sift the flour into a bowl, add the solution salt and yeast, honey, water and knead the dough for about 5 minutes. Then add the melted and cooled butter and knead again until the dough forms it will absorb fat and be smooth and elastic. We form the dough put the ball in a bowl, cover with cling film and set aside in a warm place approximately 90 minutes, until doubled in volume.
Put the risen dough on a floured surface and divide it into 12 equal pieces, from which we form round buns. Place the buns on a baking tray lined with baking paper. Cut each roll with a sharp knife crosswise, sprinkle it lightly with flour, cover with a cloth and leave in a warm place for about 40 minutes.
At the bottom of the oven, place a heat-resistant dish with hot water water, preheat the oven to 250°C. Put the baking sheet with the buns in preheated oven and bake for 12 - 15 minutes.
Enjoy!
* Recipe from Bakery Brothers on FB The buns were baked:
Matka Wariatka
< a href="https://www.mojemaleczarowanie.pl/2019/05/buki-pszenne-metoda-solno-drozdzowa.html">My Little Magic
Secrets of taste
Joanna Krych photo on FB
Jasmine Kitchen
Marta's magical life
Crazy in the kitchen
Aneta's Hell's Kitchen>
My home cooking>
Color Plate
also check
Comments