French yeast bread from Auvergne with poolish leaven. Breakfast buns from the home bakery.
In January Amber Bakery original bread from the Auvergne region of France - Pain Auvergnat. It is baked in the shape of a large loaf with a characteristic hat.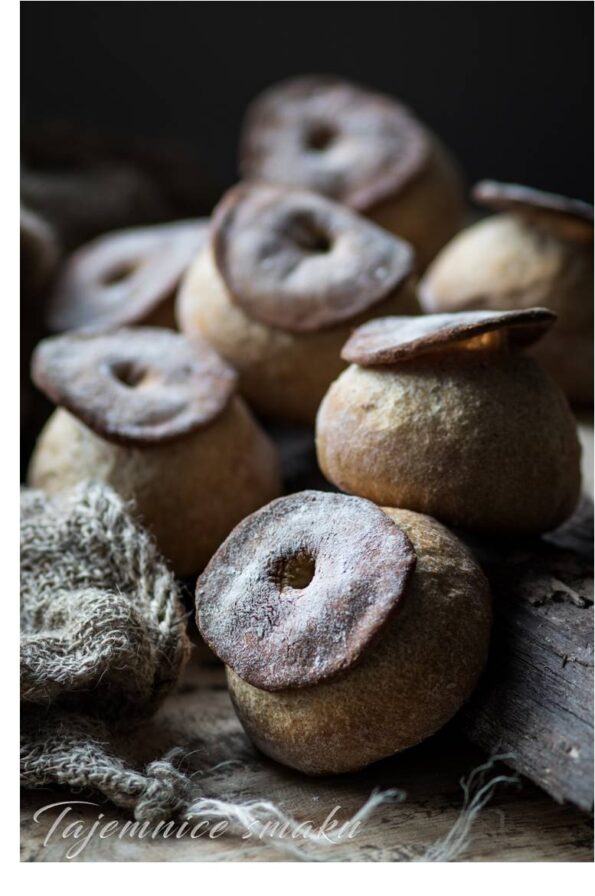 Pain Auvergnat can be baked in the shape of one loaf, but I recommend having fun and preparing small rolls. They look very pretty after baking. The bun is soft inside and the hat is crispy and delicious, like toast.
Pain Auvergnat - Recipe BesondersGut
Ingredients for 10 rolls
POOLISH
125 ml of water
2 g fresh yeast
100 g of whole wheat flour
CAKE
poolish
240 ml of water
10 g of malt (I didn't have it, I used buckwheat honey)
10 g of honey
3 g of fresh yeast
400 g of bread flour type 750
10g of salt
Execution
POOLISH
Day 1 - evening - pour water into a bowl, mix with yeast and flour. Cover and let ferment until the next day at room temperature, for 12-18 hours. Poolish should be covered with lots of small bubbles.
CAKE
Day 2 - Transfer the poolish and remaining ingredients in the above order to the bowl of a stand mixer and knead for 10 - 15 minutes on low speed to obtain a smooth dough that should pull away completely from the sides of the bowl. Cover the dough and leave it at room temperature for 90 minutes. We submit them twice within 90 minutes - the first time after 45 minutes, the second time 30 minutes later.
Put the dough out onto a lightly floured pastry board. We weigh 100 g for caps - 10 g each. We weigh the remaining dough and divide it into 10 equal portions.
We form all the pieces of dough into balls and put them seam down, cover with a kitchen cloth. Roll out small balls on a well-floured board into discs of about the same diameter as large balls. We put the discs on the larger dough balls sprinkled with flour and let them rise for another 10-20 minutes (cover them with a bowl or plastic container).
Sprinkling large balls with flour before inserting the dough discs prevents them from "sticking" and floats more nicely during baking. Alternatively, you can lightly brush about 3 mm of the edge of the dough disk with oil before placing it on the large ball of dough.

Just before baking, press your thumb deep into the center of the bun. Bake in a very well-heated oven for 10 minutes at 240 ° C with steam (steam oven or heat-resistant bowl with water). Then we open the oven for a moment to let the steam out, reduce the temperature to 220 ° C and bake for another 12-15 minutes. Cool the buns on a grate.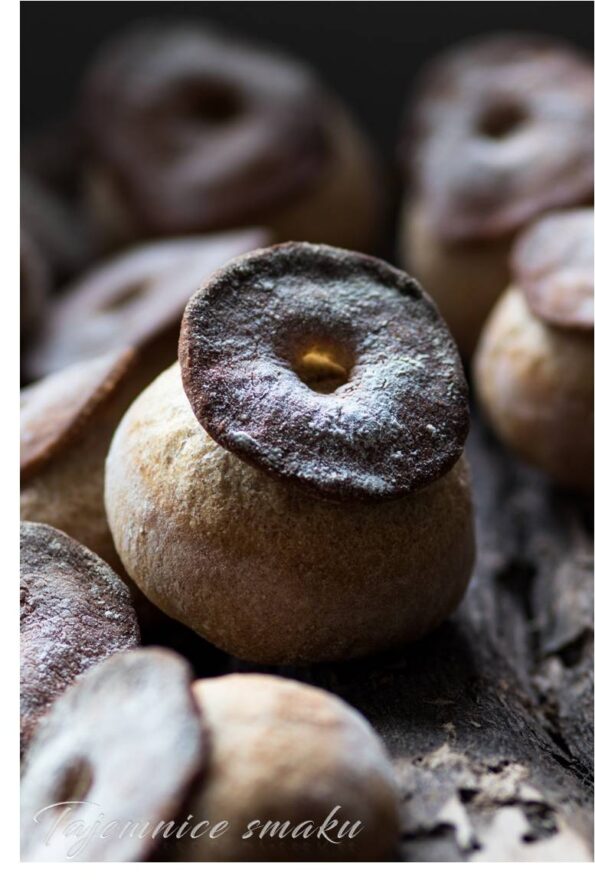 Pain Auvergnat on blogs:
Acacia blog< br>Lilies of the valley in the kitchen
Gucio's kitchen
Kitchen door
My Little Magic
Gardens of Babylon
Family plant-based
Secrets of taste
Kitchen retreat
also check
Comments