Sicilian cream-filled cookie with japanese tea - cannoli with matcha cream
Cannoli is a Sicilian dessert, dough tubes fried in deep fat, then filled with ricotta cream and sprinkled with powdered sugar.
To prepare cannoli, we will need special metal molds - tubes.
I added powdered matcha tea to the ricotta cream. Apparently, it has amazing health properties, and besides, thanks to it, the cream has an intriguing green color.
Thanks to matcha, he made us an Italian dessert in Japanese style, perfect for Polish Fat Thursday ;-)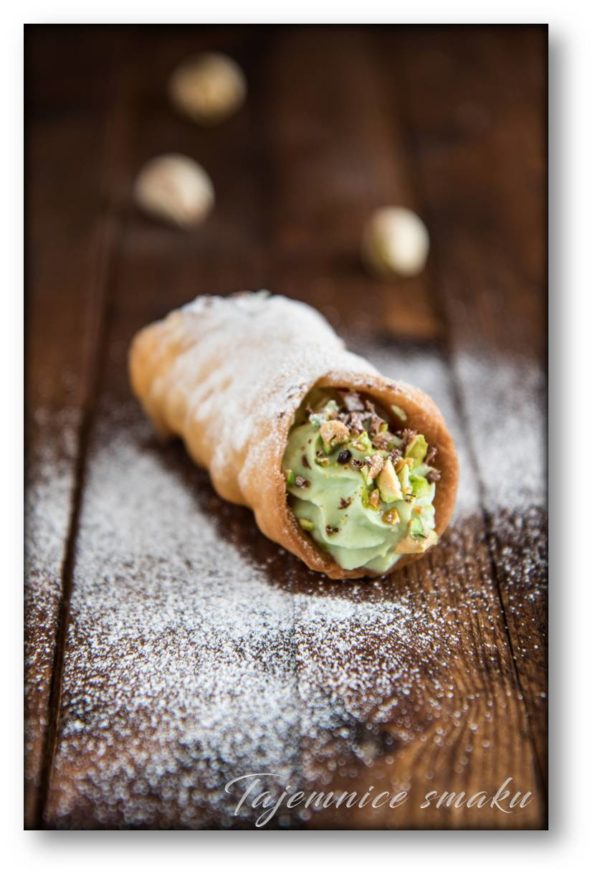 Ingredients
CAKE
250g flour
2 tbsp icing sugar
2 egg yolks
50g melted butter
50ml dry white wine
20ml white wine vinegar
pinch of cinnamon
a pinch of salt
CREAM
250g ricotta cheese
250ml cream 30%
100g icing sugar
1 lime juice
1 level teaspoon of matcha tea powder
EXTRAS
powdered sugar
2 squares of dark chocolate
a handful of chopped unsalted pistachios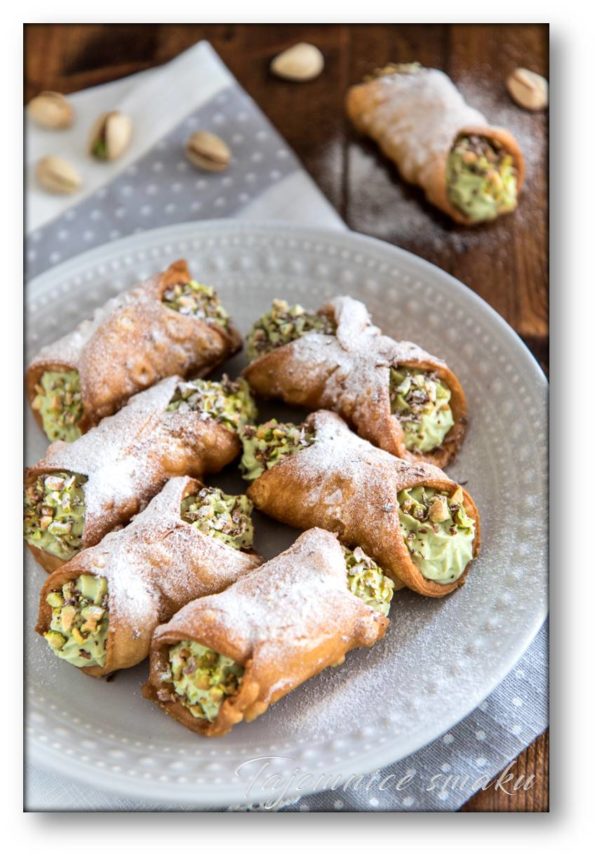 Execution
CAKE
Knead the dough from the given ingredients, wrap in cling film and cool in the fridge for at least 1 hour. The cake can be stored in the fridge for up to 2 days.
In a large pot or fryer, heat the oil to 180C.
Roll out the dough, fold it several times and roll it out again to squeeze as much air into the dough as possible. Finally, we roll out to a thickness of about 1-2mm and cut out circles with a diameter suitable for our molds. Then, we wind the circles of dough onto the tube molds (the molds should be well greased with oil at the beginning), so that they slightly overlap each other, and we glue them together, lubricating them with protein. Fry together with the tubes until golden. Dry on a paper towel, remove the metal tubes.
CREAM
Put the package with the cream in the freezer for 15 minutes. At this time, combine matcha, powdered sugar, lime juice with ricotta, mix thoroughly until you get a uniform green color. Whip the cream until stiff, gently combine with the green ricotta and leave for half an hour in the fridge.
Fill the cake tubes with the ready-made cream (preferably just before serving), decorate with pistachios and grated chocolate. Sprinkle with powdered sugar.
Enjoy!
Save
Save< /span>
Save
Save< /span>
Save< /span>
Save< /span>
also check
Comments