Steamed puff pastry - eclairs filled with matcha cream and fruit
What can we prepare from choux pastry? This is a very versatile dough, we can use it for both sweet and savory products. All you need to do is transfer the steamed puff pastry to a pastry bag before baking, choose the right tip (or not) and... we are limited only by our imagination. We can prepare cream puffs, eclairs, bagels, puff peas and even fancy decorations for desserts.
A great idea to use choux pastry is the recipe for puffs with salad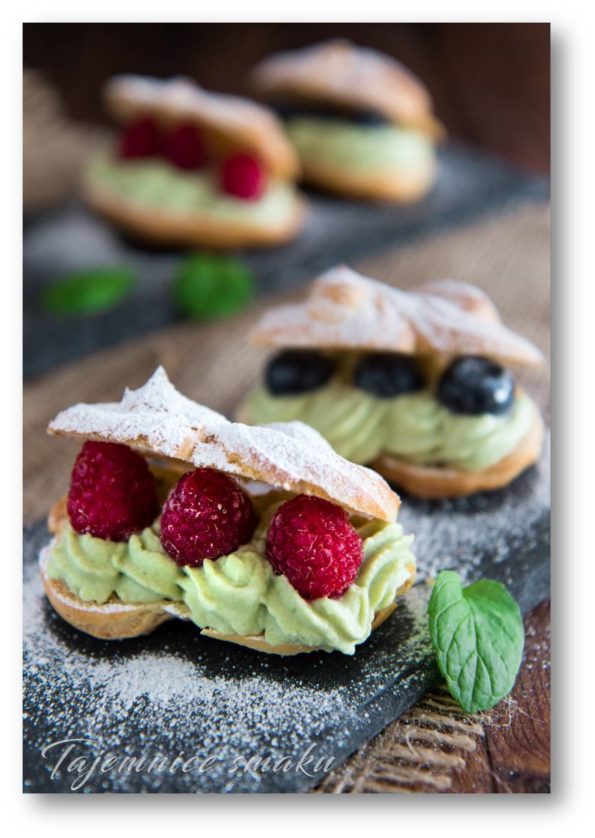 This time I propose eclairs with cream and ricotta cream with the addition of matcha green tea. You can omit matcha if you don't like it. I store the cream in the fridge and stuff the eclairs just before serving. I layered the dessert with frozen raspberries and blueberries.
Ingredients
CAKE
150 g cake flour
30 g potato flour
3 - 4 eggs
80 g butter
125ml water
125ml milk
a pinch of salt
CREAM
250 g ricotta cheese
250 ml cream 30%
100g icing sugar
1 lime juice
1 level teaspoon of matcha tea powder
EXTRAS
raspberries
blueberries
powdered sugar
Execution
CAKE
Boil water and milk with butter and a pinch of salt in a pot. Pour the cake flour and potato flour into the boiling water, reduce the heat and beat vigorously until the dough is shiny and smooth and begins to pull away from the sides of the pot. Cool the dough and transfer it to the mixer. Then add the eggs one at a time, beating all the time. Fill the pastry bag with the soft and plastic dough and squeeze oblong eclairs onto a baking tray lined with baking paper.
Bake for 20-30 minutes in an oven heated to 200°C.
CREAM
Put the package with the cream in the freezer for 15 minutes. At this time, combine matcha, powdered sugar, lime juice with ricotta, mix thoroughly until you get a uniform green color. Whip the cream until stiff, gently combine with the green ricotta and leave for half an hour in the fridge.
Eclairs
Put the cream into a pastry bag. Fill the cut eclairs with green cream and decorate with fruit. Cover with "hats" and sprinkle generously with powdered sugar.
also check
Comments