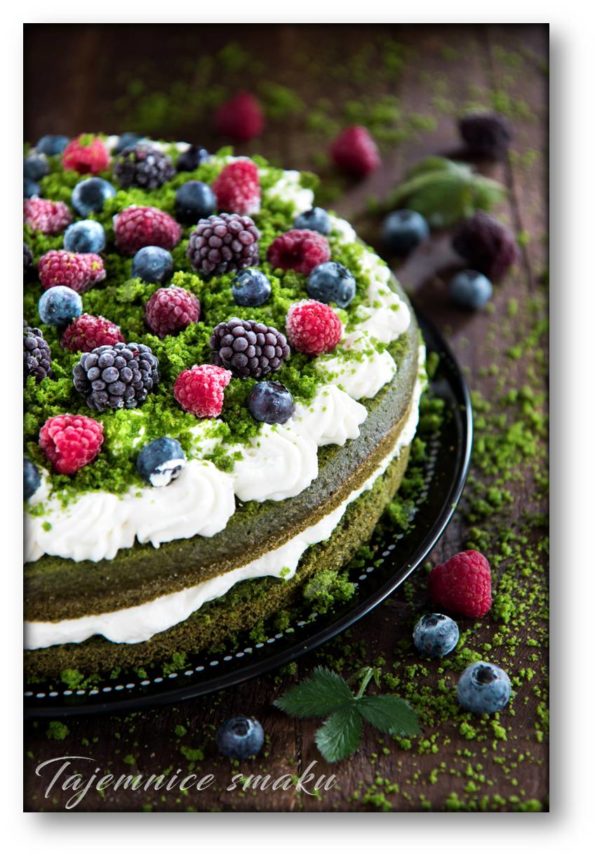 "Forest moss", "Forest undergrowth", "Turkish spinach cake" are nothing more than a green cake with the addition of spinach leaves. How many names, so many different recipes, how many housewives, so many variations on the theme of green cake.
This is my debut, so I started by analyzing various recipes on the web and... I got a catfish...
Therefore, I used fresh spinach for the cake, prepared the cream with ricotta and cream, and put frozen raspberries, blackberries and blueberries on top. This is my version, which I will probably modify depending on the availability of products and fantasies.
That's it! The coolest thing is that with such pastries, we can use any fruit, and add the cream we like to the cake.
Ingredients
CAKE
300 g cake flour
100 g wholemeal flour
4 eggs
180g sugar
150ml oil
1 teaspoon baking powder
1 teaspoon of soda
250 g fresh spinach leaves
grated zest of 1 lime
1/2 lime juice
PUNCH
150ml hot water
1/2 lime juice
1 teaspoon of sugar
1 teaspoon alcohol (optional)
CREAM
400 ml cream 30%
500g ricotta
150g icing sugar
juice of 1 lime
DECORATION
Forest fruits - amount at your discretion, as much as you like -
raspberries, blackberries, blueberries (frozen or fresh)
Execution
CREAM
Put the package with the cream in the freezer for 15 minutes. At this time, combine the powdered sugar, lime juice with the ricotta, mix thoroughly. Whip the cream until stiff, gently combine with the ricotta mass and leave in the fridge.
PUNCH
Mix the ingredients of the punch together until the sugar dissolves.
CAKE
Mix fresh spinach leaves (without stems) with the juice of 1/2 lime to make a mousse. Add grated lime zest.
Using a mixer, mix eggs with sugar, gradually add oil. Then add the blended spinach. In another bowl, mix the dry ingredients together and gently combine with the spinach mixture.
Preheat the oven to 175°C. Line a cake tin with a diameter of 26 cm with baking paper. Pour the spinach mass into a mold, put it in a preheated oven and bake for about 45 minutes or until a "dry stick" is found.
Take the baked cake out of the mold and let it cool down on a grate.
Cut off the so-called "hill", which we crumble in a bowl and leave for decoration. Cut the remaining dough into two layers.
Place the first top on a plate or platter, soak with half of the punch, then spread with half of the ricotta cream and cover with the second top of the cake. Soak the whole thing again with the rest of the punch, spread with the remaining ricotta cream and sprinkle generously with the crushed green dough*. Finally, decorate with forest fruits. We store the cake in the fridge.
Enjoy!
* We can leave some green crumble and use it to prepare desserts in glasses, e.g. -pomegranate/">Layered dessert with forest moss, mango, pomegranate... or Forest moss in a jar
also check
Comments