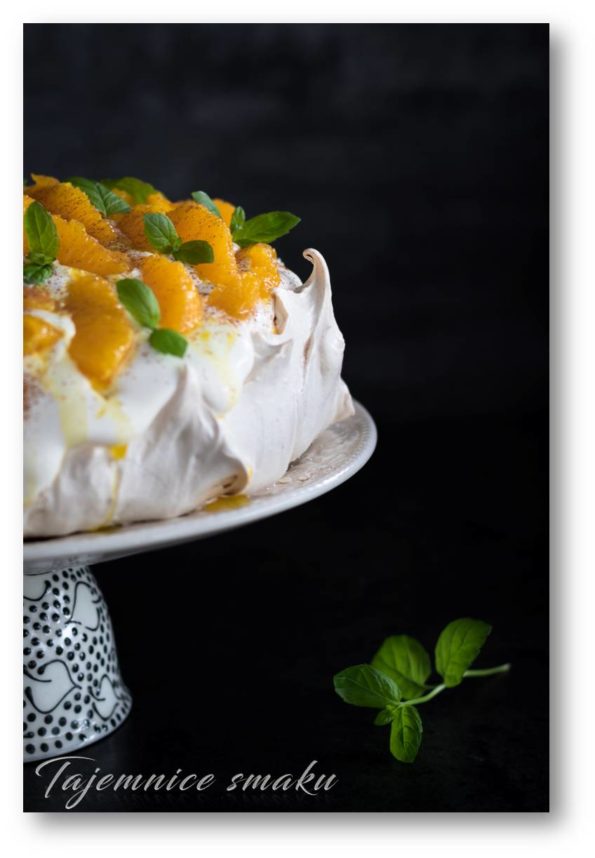 Meringue is a dessert that is usually not planned. I usually make meringues when I have left over proteins from other recipes. This one was baked thanks to the baked avocado with salmon and egg yolks.
I served meringue with oranges, because they are in season, and cinnamon because I really like this combination.
Ingredients
Meringue
4 proteins
200g of sugar
pinch of salt
1 teaspoon of lemon juice
1 flat teaspoon of potato flour
1 level teaspoon of cinnamon
CREAM
200 ml of 30% cream
200ml ricotta cheese
50 g powdered sugar
2 tablespoons of orange juice
ORANGES
2 large oranges
1 tablespoon of sugar
Execution
Meringue
Whip the egg whites with a pinch of salt with a mixer, at the end of whipping, gradually add sugar, preferably one tablespoon at a time. When you get a stiff, shiny foam, add lemon juice and beat for a while. At the very end, add potato starch, cinnamon and mix - gently, literally 2-3 revolutions and it's ready!
Line a baking sheet with baking paper, draw a circle, about 20 cm, and put meringue on it. Use a spatula to shape a fairly neat mound.
Preheat the oven to the temperature of 165-170 °C with hot air circulation. Place the meringue into the preheated oven and bake for 5 minutes. After this time, we reduce the power of the oven to 135 - 140 ° C, also with hot air circulation, and bake the meringue for 1.5 hours. Cool in the oven with the door slightly ajar. A good way is to put a wooden spoon between the door and the oven. It is best to bake the meringue in the evening and leave it overnight in a preheated oven.
CREAM
Put the package with the cream in the freezer for 15 minutes. Combine powdered sugar, orange juice with ricotta, mix thoroughly. Whip the cream until stiff, gently combine with the ricotta and leave for half an hour in the fridge.
ORANGES
Fille the oranges - use a sharp knife to cut off the upper and lower parts of the fruit, so that the flesh is visible. Then we put the orange upright and cut the peel together with the white albedo. From the fruit prepared in this way, with a sharp and thin knife, cut out the fillets from between the white membranes. Set the fillets aside, squeeze the juice from the remaining part of the orange with your hand.
In a small saucepan, heat the juice and sugar until you get a syrup, let it cool down.
Put the meringue on a plate or platter. Decorate with cream, cover with orange fillets, pour orange sauce and sprinkle with cinnamon. For refreshment, we can add fresh mint leaves.
Enjoy!
also check
Comments