<! - wp: image {"align": "center", "id": 1398, "className": "is-style-default"} ->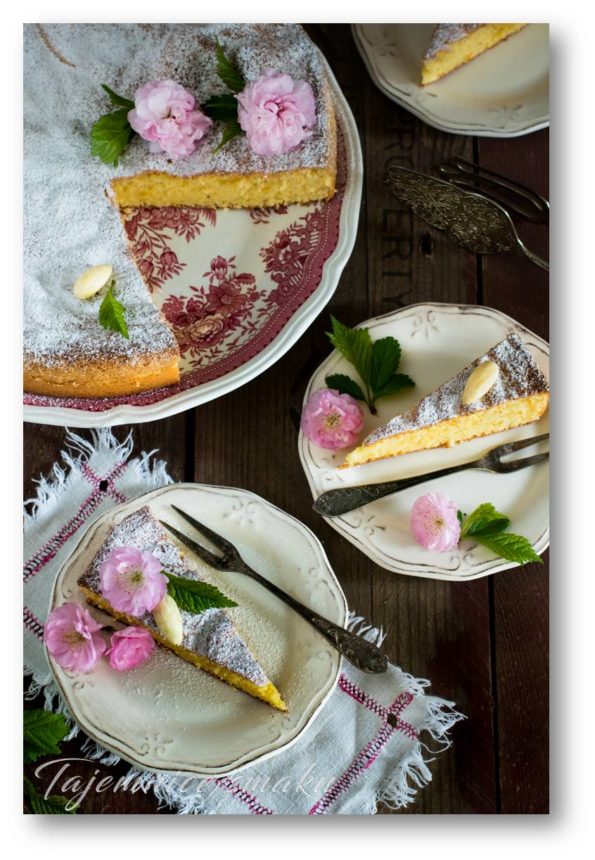 <! - / wp: image ->
Tarta de Santiago is a delicious almond cake, also known as the pilgrim cake. Very sweet, moist and energetic, it is the perfect dessert for weary pilgrims traveling on the route to Santiago de Compostela.
A special sign of this cake is a detail - the cross of St. James in the shape of a sword. This characteristic cross can be printed and cut from the template , then put it on the center of the cooled cakes and sprinkle with powdered sugar.
In spring, when everything is blooming around, we can decorate the cake with almond flowers.
But remember, almond blossoms are not edible ! *
If we want to use flowers for decoration cover the ends (stems) with cling film so that they do not come into direct contact with the dough.
Ingredients
250 g peeled almonds
6 eggs
250 g of powdered sugar
Peel rubbed from one orange
Peel rubbed from one lemon
a few drops of almond flavor
Butter and cornmeal to grease and cover the mold
powdered sugar to sprinkle the cake
Execution
Grease the 26 cm cake tin with butter and sprinkle it with corn flour.
Grind the almonds in a food processor, but not for flour, but rather for a fine "sand".
Separate the egg yolks from the egg whites and grind them with powdered sugar into a light kogel-mogel. Add ground almonds, citrus peel, mix the almond aroma thoroughly.
Beat the egg whites until stiff, gently combine with the almond mass and put into a springform pan.
Put in an oven preheated to 180 ° C and bake for about 30-40 minutes.
Enjoy your meal!
* Information confirmed by the authority in the field of edible flowers - Małgorzata Kalemba-Drożdż from A bit different confectionery
also check
Comments