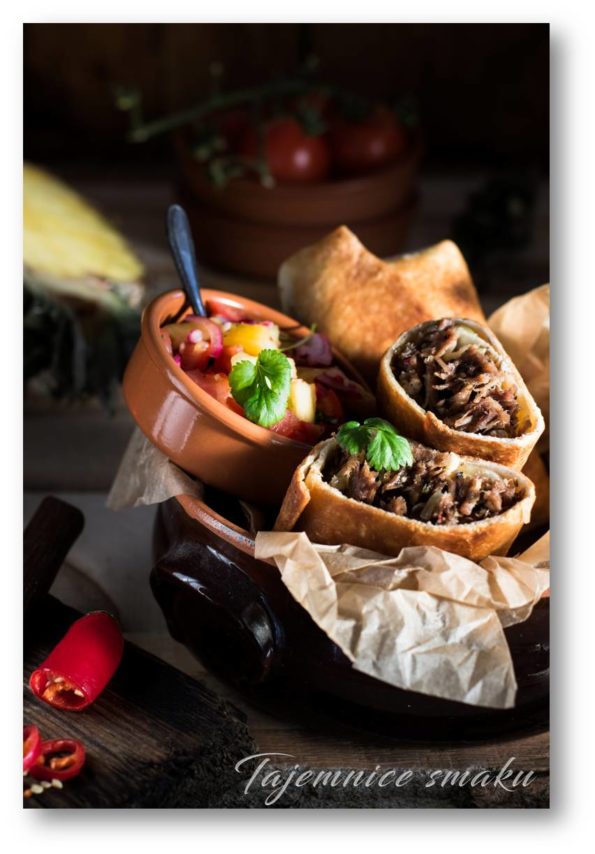 What is a chimichanga?
It's just fried... burritos!
Chimichanga is a Tex-Mex dish, a cuisine created as a result of the fusion of Mexican and American cuisine. We prepare them similarly to burritos, with the difference that we fry the chimichanga.
This is a very easy recipe*, you put the filling on the tortillas, which you can change as you like, roll it up, fry it. You can serve it with what you like - with guacamole, yogurt or, for example, with pineapple salsa.
Ingredients
CHIMICHANG
1 kg of pork shoulder
oil
400ml chicken broth
small onion
4 cloves of garlic
chilli
6 wheat tortillas
cumin, dried oregano, salt, pepper
SALSA
2 tomatoes
100 g fresh pineapple
1/2 red onion
1/2 chilli
2 cloves of garlic
1 teaspoon of lemon juice
1 tbsp chopped coriander
For serving - salsa and natural yoghurt
Execution
SALSA
Cut the tomatoes in half, remove the seeds, cut the flesh into cubes. Peel the pineapple and cut it into small pieces. Finely chop the peeled onion and garlic and the seeded chili pepper. Combine with tomatoes, pineapple, add lemon juice and chopped coriander, season with salt and mix. We cool it down.
CHIMICHANG
Cut the shoulder into roughly dice. Heat the oil in a pot and fry the meat on all sides. Pour in the chicken broth, salt, simmer for about an hour over low heat, until the liquid evaporates and the meat is tender. We're studying. using two forks, we divide the shoulder blade into fibers.
Slice the onion, garlic and chili pepper, which has been cleaned of seeds. Heat the oil in a pan and fry the onions and peppers until softened. At the end, add the garlic and fry for another 2 minutes. Add pork, mix, season with cumin, oregano, salt and pepper. We're cooling down.
In the middle of each tortilla, put the stuffing, fold the edges inwards and roll up like a croquette. Heat the oil in a frying pan, place the chimichangi seam side down and fry until golden brown on all sides. Drain from fat, serve warm with pineapple salsa and natural yoghurt.
Enjoy!
*Recipe comes from Kitchen magazine 02/2018
also check
Comments