An idea for a quick dinner or lunch. Chinese noodles with chopped nori seaweed and sesame.
Pasta with chopped nori seaweed, chili oil and sesame. A quick dish for a delicious dinner or lunch.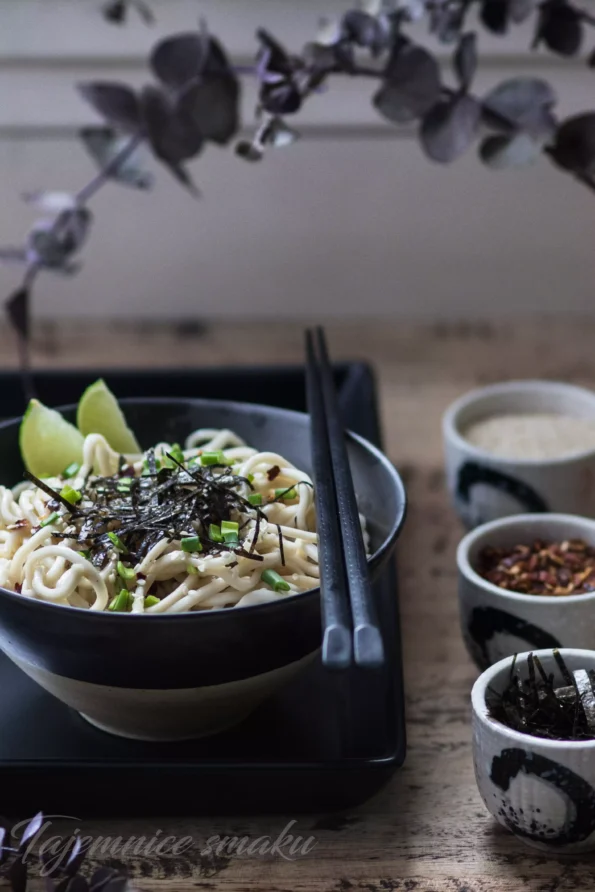 The recipe for pasta with algae and sesame comes from Małgosia Minta's book Kalacje. 93 recipes for a successful evening. Małgosia used meaty egg noodles mein. For me, it's Chinese eggless noodles, because that's what I had at home. I think this is a very versatile recipe and virtually any pasta will go well with this dish.
It's a great I cook, I don't waste. Often, after preparing sushi, a packet of sushi paper, i.e. nori algae, is opened. I recommend cutting them into thin strips with scissors, putting them in a jar and using them as a topping for pasta, salads and other dishes.
INGREDIENTS
150 g Chinese noodles< /a>
1 sheet of nori seaweed
2 tablespoons of sesame oil
2 tablespoons of sunflower oil
a pinch of chili flakes
2 tablespoons of sesame seeds
2 tbsp chopped chives
lime
pinch of salt
EXECUTION
Sesame oil is combined with sunflower oil.
Add chili flakes, a pinch of salt to the oil, mix and set aside.
Cook the pasta according to the instructions on the package.
The sheet of nori is chopped or cut with scissors into short and thin strips.
Drain the finished pasta, put it in a bowl, add chili oil and mix.
Sprinkle the whole thing with nori strips, sesame seeds and chopped chives.
Sprinkle with lime juice as much as you like.
also check
Comments