<! - wp: heading ->
Bedside ciabatta, crispy outside, soft and with lots of holes inside
<! - / wp: heading -> <! - wp: image {"id": 3537, "sizeSlug": "medium", "linkDestination": "none", "className": "is-style-default"} ->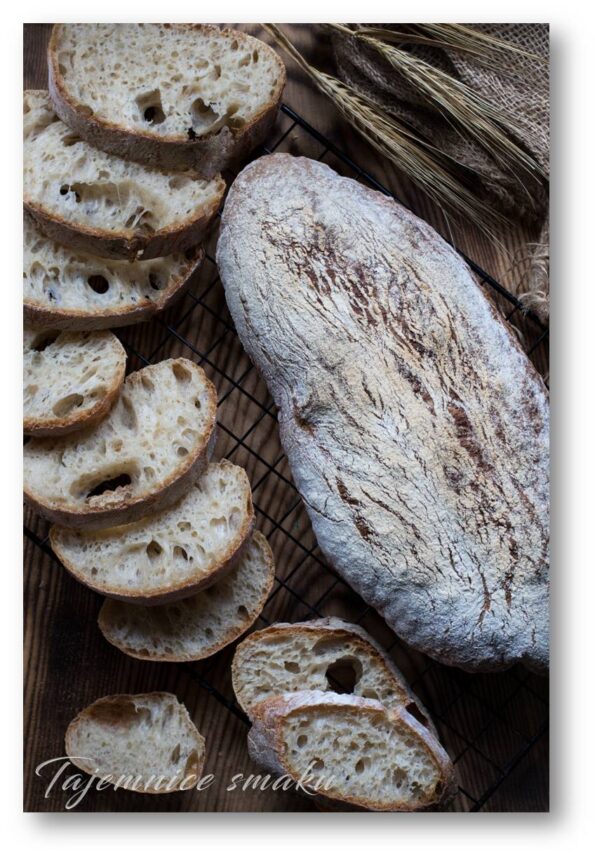 <! - / wp: image ->
Ciabatta is a rustic Italian bread made from flour, water, olive oil, salt and yeast. Can we say that ciabatta is easy and quick bread? Yes and no. The most important thing is to develop a technique, because ciabatta dough is a wet and sticky mass that needs to be controlled. For forming a ciabatta, I recommend plastic or metal dough scrapers, they are very useful. One of the difficulties may also turn out to be the transport of the dough risen to a hot baking tray. How to efficiently slide ciabattas onto a hot tray? You can use a different, flat plate or a pizza shovel. You can also, like me, ask your husband for a special board. It is a cut piece of plywood (8 mm thick, made of deciduous wood) with dimensions of 38 x 38 cm, it works perfectly, I recommend it.
Why do I call this night ciabatta? Because I knead the dough in the evening and leave it covered on the kitchen counter. In the morning, all I have to do is molding and baking. For this recipe, I usually prepare two long loaves. However, nothing prevents you from dividing the dough into 4 medium or 6 small rolls. It all depends on what our plans are for using the bread.
Ingredients
5 g of fresh yeast
370 g of water
500 g of common wheat bread flour, type 750
1 tablespoon of olive oil
8 g ​​of salt
dusting flour
Execution
Pour water into a bowl, crush the yeast, stir until the yeast dissolves. Add flour, mix until combined, cover and set aside for about 30 minutes for autolysis. One of the purposes of autolysis is to saturate the flour with water before kneading the dough.
Then add salt to the dough and start kneading. The dough is very watery and sticky so it's best to knead it with a hook mixer. Knead it until it begins to detach from the sides of the bowl, it usually takes about 3-5 minutes. Then add a tablespoon of olive oil and knead again until the dough absorbs the fat and will come off the sides of the bowl. Cover the bowl with the prepared dough, preferably with cling film, and leave it on the kitchen counter for about 12 hours. It is best to prepare the dough in the evening and leave it to rise and ferment overnight.
After rising the dough very gently, preferably with moistened hands, place it on the pastry board, generously sprinkled with flour. We do not knead the dough, we handle it very carefully so as not to destroy the air bubbles inside.
Sprinkle the dough on top with flour and use a scraper (plastic or metal spatula) or a knife to divide the dough into 2, 4 or 6 portions. Lightly shape each batch with scrapers, pushing the flour from the dough underneath the dough. Cover with a cloth and set aside for 15 minutes. Then, preferably with two scrapers, transfer the ciabatta "upside down" on baking paper sprinkled with flour. Arrange the rolls at intervals, cover with a cloth and leave for another 20 minutes.
During this time, we heat the oven with the tray inside to 245 ° C. Place a heat-resistant bowl with water on the bottom of the oven. Put the ciabatta (together with baking paper) on a preheated baking tray and bake it for about 20 - 25 minutes. After baking, let it cool on a wire rack.
Enjoy your meal!
also check
Comments