Knot buns, soft and buttery, perfect for any time of the day
In the March Bakery Amber soft and butter rolls with poppy seeds. There is a bit of work with them, i.e. kneading, rolling, rolling and binding. For me, it's a very good manual therapy. Perfect to distract all bad thoughts from your head at least for a while.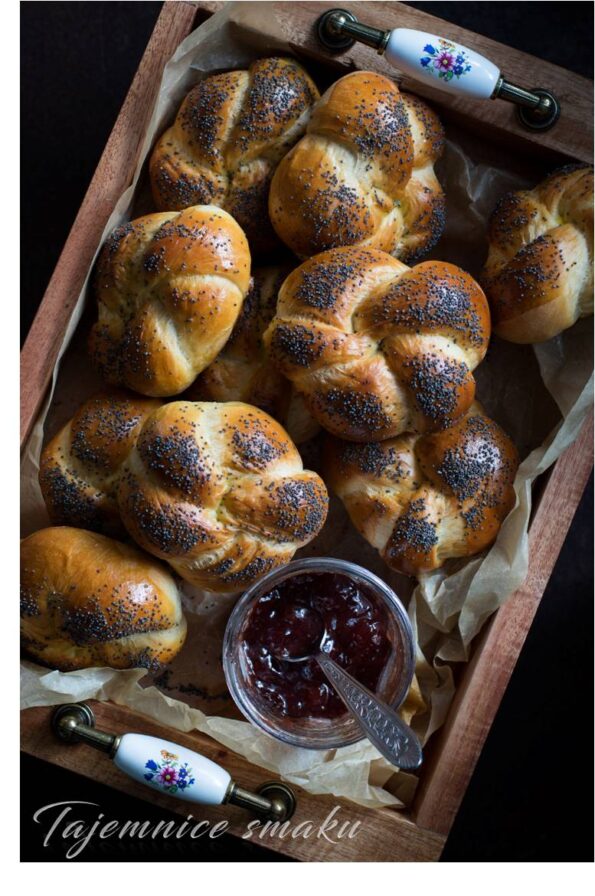 Peter Reinhard's Knotted Dinner Rolls - recipe from Fine Cooking
18 rolls
INGREDIENTS
350 ml of milk
15 g of fresh yeast
60 ml of vegetable oil
30 g of butter
50 g of icing sugar
600 g of wheat bread flour type 750
6 g of salt
>1 egg for the dough
1 egg for spreading + 1 tablespoon of milk
poppy seeds for decoration
EXECUTION
CAKE
Heat the milk in a saucepan, it should be lukewarm. Remove from heat, add yeast, stir until they dissolve. Add oil and butter (butter may start to melt, but no problem if it doesn't melt completely), then add sugar. Leave for about 5 - 10 minutes.
In a stand mixer with a paddle attachment, mix the flour, salt and egg. Add the yeast mixture and mix at low speed, about 1 minute, until a coarse dough ball is formed. Let it rest for 5 minutes.
We replace the paddle attachment with a hook and knead the dough at medium speed for about 3 minutes or until the dough becomes soft, elastic and smooth. If the dough is too sticky, add 1 tablespoon of flour, if too stiff, 1 tablespoon of milk. Stretch and fold the dough and form it into a ball.
Put the dough seam side down in a lightly oiled bowl that should be twice the size of the dough. Cover tightly with cling film. Let it stand at room temperature until it doubles in volume, for about 90 minutes.*
BUNS
Line two baking sheets from the oven with baking paper. Divide the dough into eighteen pieces, form balls, cover and leave for 10 minutes. From each portion of the dough, form a roll about 30 cm long. We wrap the dough around our fingers in a loose knot, and we wrap the ends in - one from the top, the other from the bottom - shaping rolls
Put the knots on the baking sheets, cover and leave for about 1 - 1.5 hours.
Preheat the oven to 200°C.
Before baking, mix the egg with 1 tablespoon of milk and brush the rolls. Sprinkle the rolls with poppy seeds.
Put the baking sheets in the oven and bake for 6 minutes. Rotate the plates 180 degrees and change their position. Continue baking for another 6-8 minutes, until the buns are golden brown on top and slightly browned underneath. We cool on the grate.
* We can prepare the dough up to 4 days in advance. Then we store them well packed in the fridge.
Buns on blogs:
Kitchen doors
My little magic
Gardens of Babylon
Family-plant-based
Secrets of taste
Kitchen retreat
also check
Comments