October joint baking, overnight buttermilk yeast buns with poppy seeds, sesame seeds and pumpkin seeds
In October Amber Bakery a recipe for buns that do not need to be kneaded for a long time. Just mix the ingredients in a bowl, cover and leave on the kitchen counter until morning. Yeast, which, interestingly, is very little, will do almost all the work for us overnight. In the morning, we divide the dough into portions and put it in the preheated oven. For breakfast we will have warm and fresh rolls.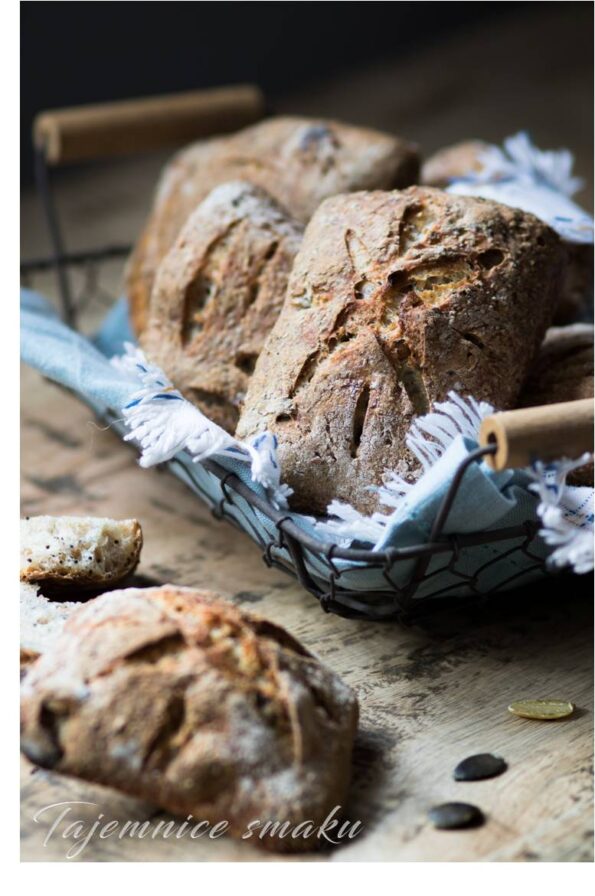 Pthe recipe with minor changes is from Zorra - I added blue poppy seed instead of linseed.
Ingredients
1.5 g fresh yeast
240 g cold buttermilk
60 g wholemeal rye flour 2000
240 g wheat flour type 500
20 g pumpkin seeds
10 g sesame seeds
10 g poppy seeds (or linseed)
6.5 g salt
Recipe
The night before, place the yeast and cold buttermilk in a bowl and stir until the yeast dissolves. Add the rest of the ingredients and mix everything well with a wooden spoon. The dough is quite firm. Cover the bowl and let the dough ferment overnight at room temperature.
The next morning, place the dough on a well-floured board and pull it out by hand into a rectangle about 2 cm thick. We cut out 6 rectangular rolls from it with a spatula. Cover and leave for 30 minutes.
Preheat the oven to 230°C with forced air circulation.
Put the rolls on a baking sheet lined with paper, cut the rolls fancifully with a sharp razor blade. Slide the tray onto the middle rack and place a heatproof bowl with hot water on the bottom of the oven. Bake for about 25 minutes, after 15 minutes turn the tray over so that the rolls are evenly browned. Remove the baked buns from the oven and cool them on a grate.
Rolls on blogs:
Lilies of the valley in the kitchen< br>Gucia's kitchen
Kitchen door
Gardens of Babylon
Family-vegetable
Secrets of taste
Kitchen privacy
also check
Comments