Recipe for yeast bread with oil and water. Golden challah, yeast braid without butter and milk
Chalka is most often associated with buttermilk baking with a lot of crumble. Looking through Monika Walecka's book "Stories of a wooden table" I found a recipe for a slightly different challah, challah on oil and water. There is no butter or milk in the ingredients, and I was looking for such a recipe at the time. I baked the challah, and I recommend the book.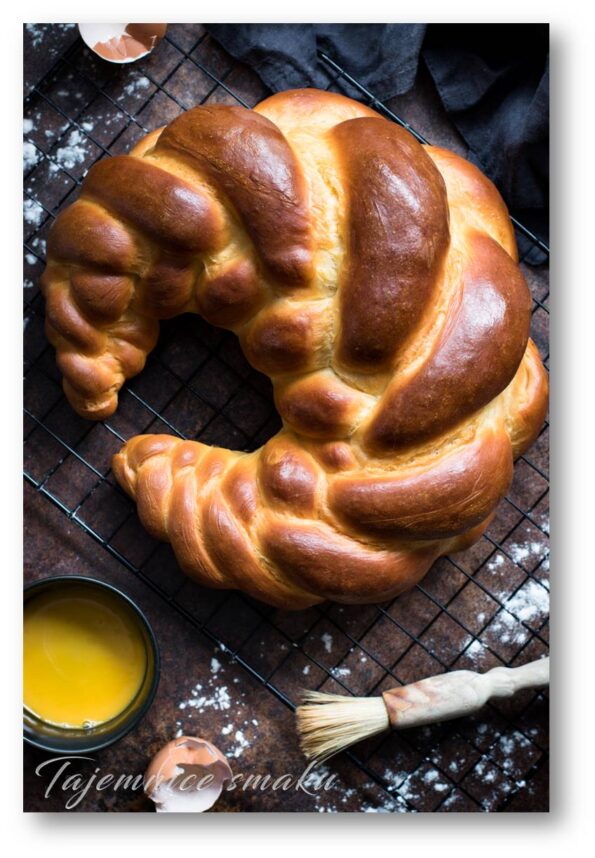 So I used Monika's recipe, I only changed the type of flour. Instead of bread flour type 750, I added wheat flour type 500 to the dough. Before baking, you can spread the challah with egg yolk mixed with milk or water, or with egg yolk alone. After baking, challah has a golden brown crust, delicate flesh, and is simply delicious.
INGREDIENTS
400 g of wheat flour type 500
30 g of sugar
2 eggs
40 ml of vegetable oil
150 ml of water
10g of salt
12 g fresh yeast or 5 g yeast powder
1 egg yolk to brush on before baking
EXECUTION
If we use fresh yeast, dissolve it in some water beforehand, if dried, add it immediately to the bowl with the other ingredients.
Put all ingredients, except the yolk, in a bowl.
Mix everything and knead (preferably with a mixer with a hook) until the dough is smooth and elastic.
The well-kneaded dough is covered with a damp cloth and left in a warm place for about 1.5 hours to double in volume.
The risen dough is divided into 3 or 5 parts, depending on the braid we want to make.
We form balls and leave them covered for about 10 - 20 minutes to allow the dough to rest.
We form rolls from the balls and then weave them into any braid.
Cover the braided dough and leave it at room temperature to rise again for 1.5 - 2 hours.
Smear the risen challah with egg yolk mixed with milk or water.
Bake for 30 - 35 minutes at 180°C until golden.
Cool the baked challah on the grate.
How to braid a 5 piece braid?
I recommend Katharina Arrigoni's BesondersGut where Katharina shows you two ways for braiding a braid of five parts.
also check
Comments