Blueberry cinnamon rolls baked in the form of cupcakes. Yeast muffins wrapped with cinnamon, cardamom and blueberries
Cinnamon buns can be prepared in many ways, in various forms and with various additions. Previously, I baked inverted cinnamon rolls with nuts in caramel, they came out perfect and very delicious.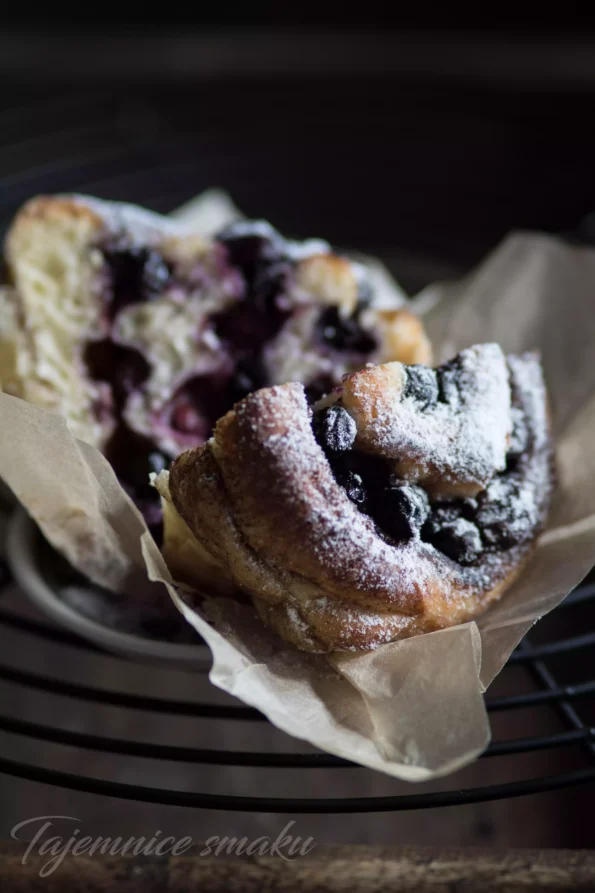 This time I needed a more divisible and easy-to-handle cake. A muffin tin turned out to be a great solution. So I prepared paper cups to make it easier to remove each bun from the mold.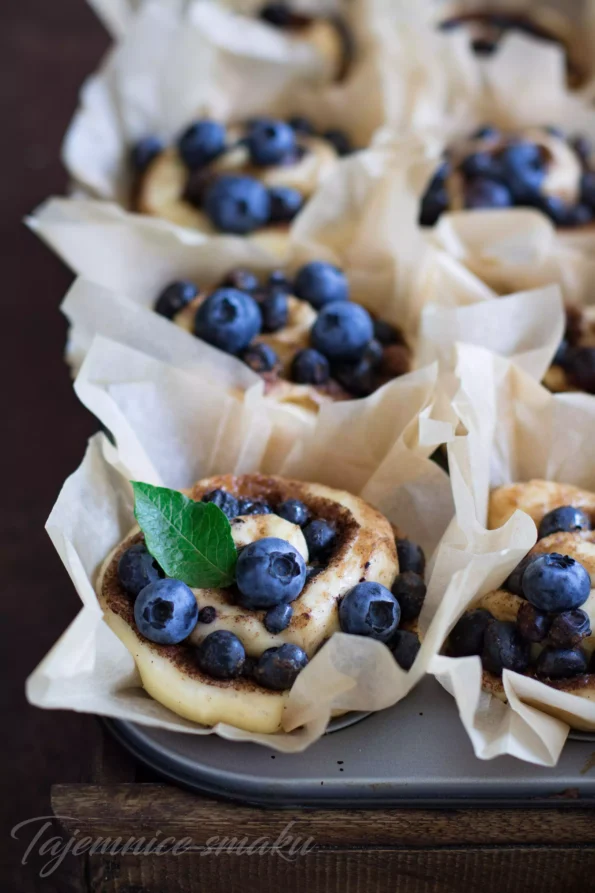 I rolled the dough with the filling, divided it with a thread (it can be dental floss) into 12 parts and put them in paper molds. I have baked, and here you are, twelve wonderfully fragrant rolls, neatly stuffed with fruit. Yummy, next time I'll try with blueberries, I have a few frozen.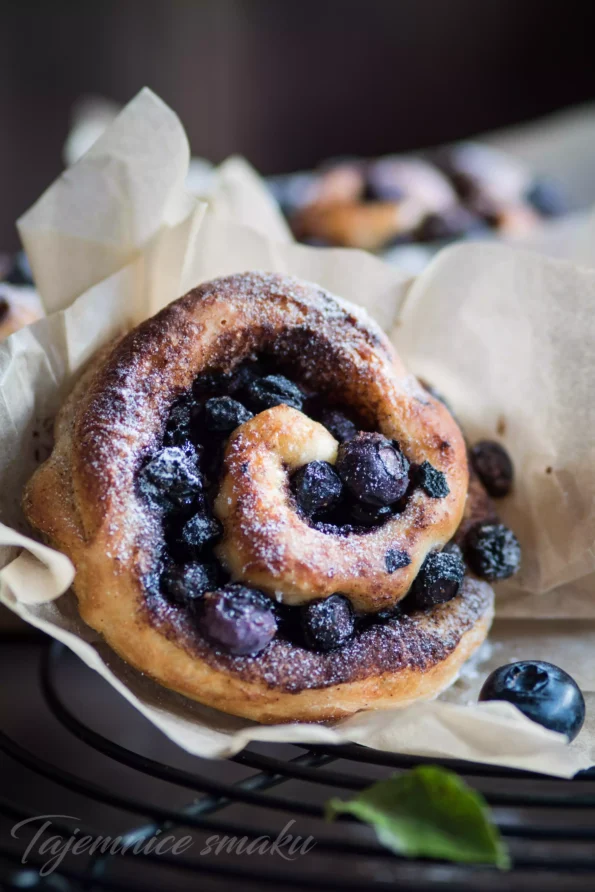 INGREDIENTS
FRAYER - TANGZHONG
15 g wheat flour type 500
25 ml milk
25 ml water
CAKE
125 ml lukewarm milk
15 g fresh yeast
450 g wheat flour type 500
2 g salt
35g sugar
2 large eggs
40ml lukewarm water (if needed)
50g soft butter
FILLING
50g melted butter
80g cane sugar
5g ground cinnamon
a generous pinch of ground cardamom
500 g blueberries
EXECUTION
TANGZHONG
In a saucepan, heat the flour, milk and water over medium heat.
Mix with a rod until a thick paste is formed.
Put it into a bowl, cover foil and leave to cool.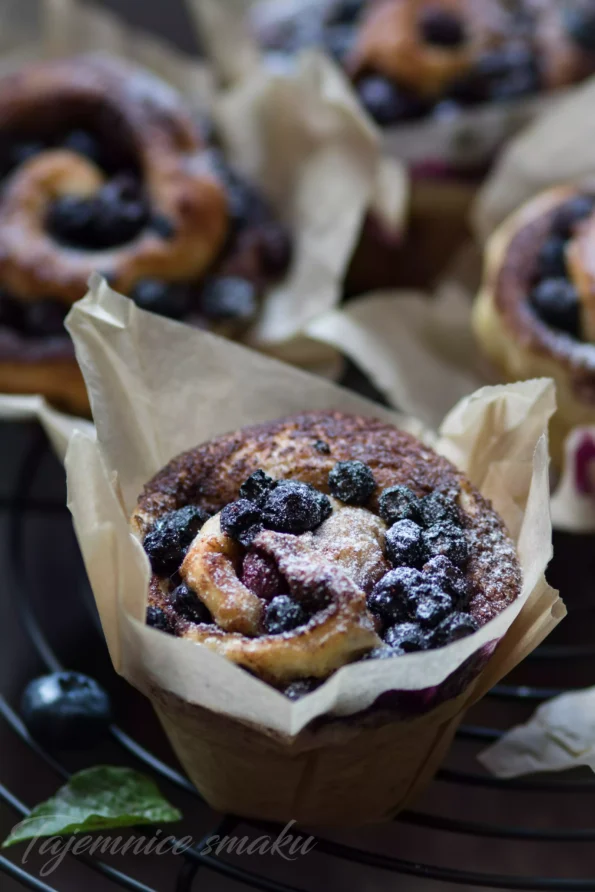 CAKE
Mix the milk and yeast, cover and leave for 10 minutes.
Pour the flour, salt, sugar and yeast mixture into the bowl of the robot, stir on slow speed.
Add the eggs and continue kneading on low speed for 3 to 5 minutes or until the dough is smooth and elastic.
When we judge that the dough is too dry, add water gradually , maximum 40 ml.
Increase the speed to medium and gradually add the butter piece by piece. Mix until the dough is well absorbed, about 5 minutes.
Shape the kneaded dough into a ball, cover the bowl with foil and leave to rise for 1 - 2 hours or until the dough doubles in size.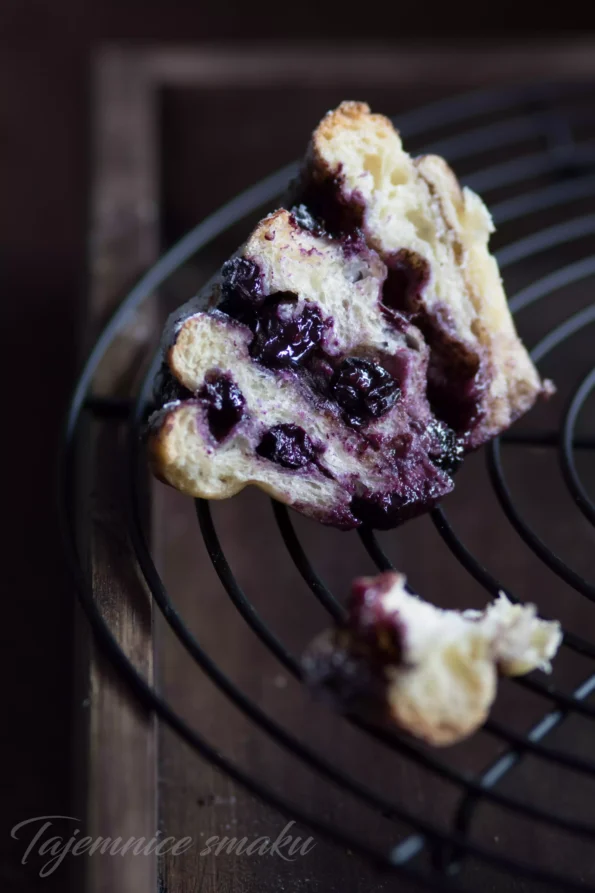 CINNAME
Roll out the risen dough on a floured surface into a rectangle with sides of about 40 x 50 cm.
Smear the dough with melted butter and sprinkle with sugar mixed with cinnamon and cardamom. li>
Spread the blueberries over the entire surface, leaving some on top.
Roll the dough gently and fairly tight, starting from the long side.
Prepare it, preferably yourself paper muffin cups.
Divide the roll of dough with a sharp knife or thread into 12 equal slices.
Each piece - carefully, because blueberry balls can escape - put in a paper cup, and then in a muffin mold. Spread the remaining fruit on top.
Cover with a clean cloth and leave to rise for about 45 - 60 minutes or until doubled in volume.
Preheat the oven to 180°C and bake the cake for about 35 minutes or until browned.
Take out the baked buns by grabbing the edges/corners of the paper molds and place them on a wire rack to cool down.
You can serve them slightly warm, but they taste good when cooled and sprinkled with powdered sugar. just as delicious.
also check
Comments