Natural yogurt, mango mousse, expanded millet and fresh blackcurrants. A quick recipe for a delicious and healthy dessert or breakfast
Blackcurrant is a treasury of vitamins and minerals. However, it should be remembered that currants subjected to thermal treatment lose a lot of these valuable goodness for health, and therefore it is best to eat them raw.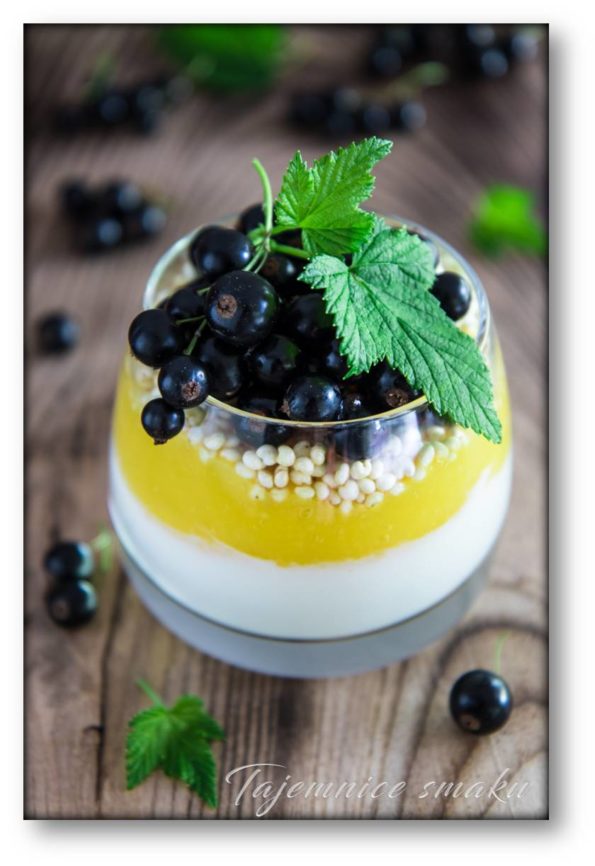 Let's take advantage of the blackcurrant season, let's sneak it into various dishes while it's fresh. Later, we only have juices, jams, tinctures... possibly frozen fruit. I really like to freeze blackcurrant fruit, from which I often prepare jelly, cocktails, compotes, desserts.
This dessert, and sometimes breakfast, is very simple to prepare. It does not require any special treatments, apart from making a mango mousse. And the taste? Unique - sour yoghurt with velvety and sweet mango mousse, crispy millet and tart and distinctive blackcurrants. It's happening!
Ingredients per 250 ml glass
150 ml of natural yoghurt
6 tablespoons of mango mousse
3 tablespoons of expanded millet with honey
5 tablespoons of blackcurrant fruit
Execution
Rinse the blackcurrant, dry it and remove the stalks.
In a glass or jar put the following in layers: