Dessert in a jar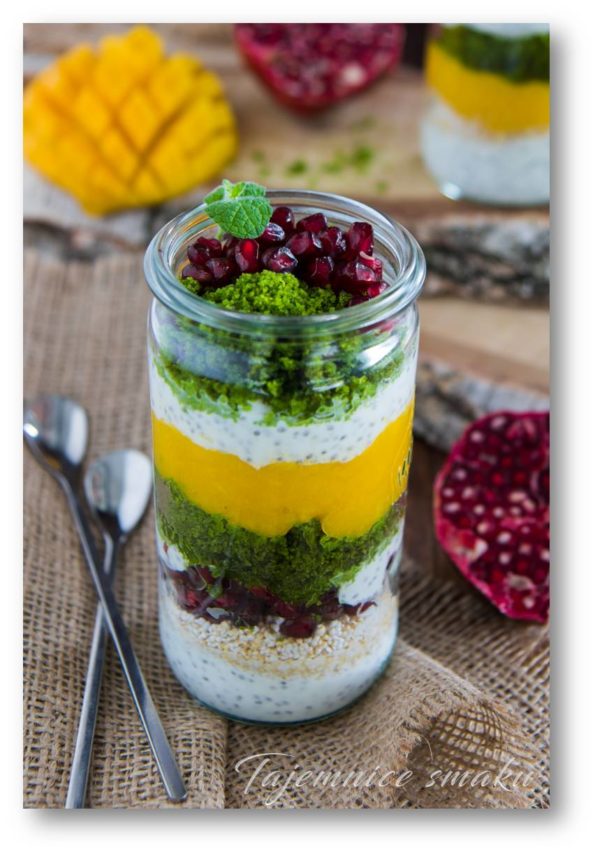 At one of the stages of preparing the spinach cake "WOOD MOSS" we need to cut off the top of the cake , crumble and sprinkle on the cake. Very often there is a little of this green crumble and we don't know what to do with it. In one of the previous entries, I proposed using the surpluses for an alternative version of the cake "WOOD MOSS IN A JAR"
This time I propose a slightly healthier and more colorful dessert using green, spinach crumble.
You don't have to stick strictly to the proportions, order and type of individual ingredients. Let's be creative and use different products that we have at home. This is how this dessert was created - spontaneously from the ingredients I had on hand. For the purposes of the recipe, I measured the layers roughly in tablespoons and teaspoons.
Composition - for a 350 ml jar
6 tablespoons of plain yogurt
2 tbsp chia seeds
2 tablespoons of expanded amaranth
3 tbsp mango puree
4 tbsp green forest moss cake crumbles
3 tablespoons of pomegranate seeds
2 teaspoons of maple syrup
mint leaf for decoration
Execution
Mix yogurt with chia seeds and leave for 10 minutes.
Then, we arrange the individual ingredients in the jar in layers in the following order:
3 tablespoons chia yogurt
2 tablespoons expanded amaranth
1 teaspoon maple syrup
2 tablespoons pomegranate seeds
3 tablespoons of chia yogurt
3 tablespoons of "forest moss" crumble
3 tablespoons of mango mousse
2 tablespoons of chia yogurt
1 teaspoon of maple syrup
1 tablespoon of "forest moss" crumble
1 tablespoon of pomegranate seeds
mint leaf for decoration
Enjoy!
also check
Comments