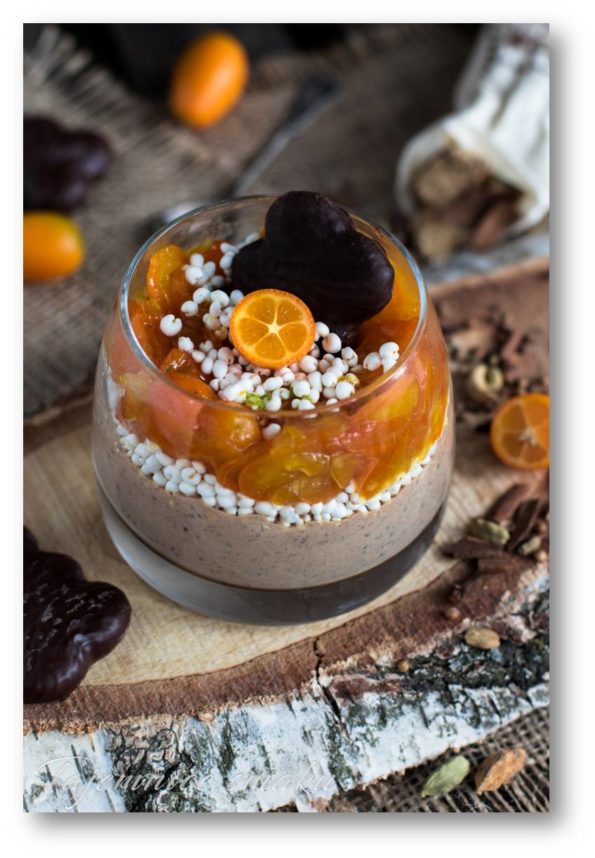 Favorite gingerbread? Catherine! The taste of childhood, and those in chocolate.... delicious.
Today's proposal for a dessert inspired by the Toruń gingerbread contest FC Kopernik Recipe for Kopernik!
Chocolate and gingerbread somehow inseparably remind us of oranges and... the magic of Christmas.
Well, there's a contest, it's fun... Since "Lejdis" celebrated New Year's Eve in August, we can also treat you with a festive dessert in August.
The dessert has a sweet - bitter - sour taste. Aroma? You know - festive. The taste of sweet gingerbread with sour yoghurt and the characteristic bitterness of kumquat... this is where things happen, a real feast of flavors!
Ingredientsfor a 250 ml glass
CHIA GINGERBREAD MOUSSE
100ml plain yogurt
2 pieces of Toruń Katarzynki in chocolate (package 60 g - 6 pcs)
2 teaspoons of chia seeds
KUMQUAT JAM
100 g kumquat fruit
1/2 lime juice
1 teaspoon of honey
ADDITIONALLY
1 Toruń Katarzynka in chocolate (package 60 g - 6 pcs)
4 tablespoons of expanded millet
grated zest of 1/2 lime (optional)
Execution
KUMQUAT JAM
Kumquats are washed, dried and cut into thin slices, removing any seeds. Grate the zest from 1/2 lime (without white albedo), set aside for decoration. Squeeze the juice from the grated lemon. In a saucepan or a small pan, slowly heat the fruit with the addition of lime juice for about 10-15 minutes - if necessary, add a little water. When the kumquats become glassy, ​​add a tablespoon of honey, mix and leave the jam to cool down.
GINGER BREAD MOUSSE WITH CHIA
Mix yogurt with gingerbread broken into pieces to a velvety mousse. Add chia seeds to the ready gingerbread mousse, mix thoroughly and set aside for 10-15 minutes.
In the glass we arrange the layers in the following order:
yoghurt chia gingerbread mousse
3 tablespoons of expanded millet
kumquat jam
1 tablespoon of expanded millet
grated lime zest (optional)
1 chocolate-covered Katarzynka gingerbread
Enjoy!
#copernicus recipe
also check
Comments