<! - wp: image {"id": 2779, "sizeSlug": "medium"} ->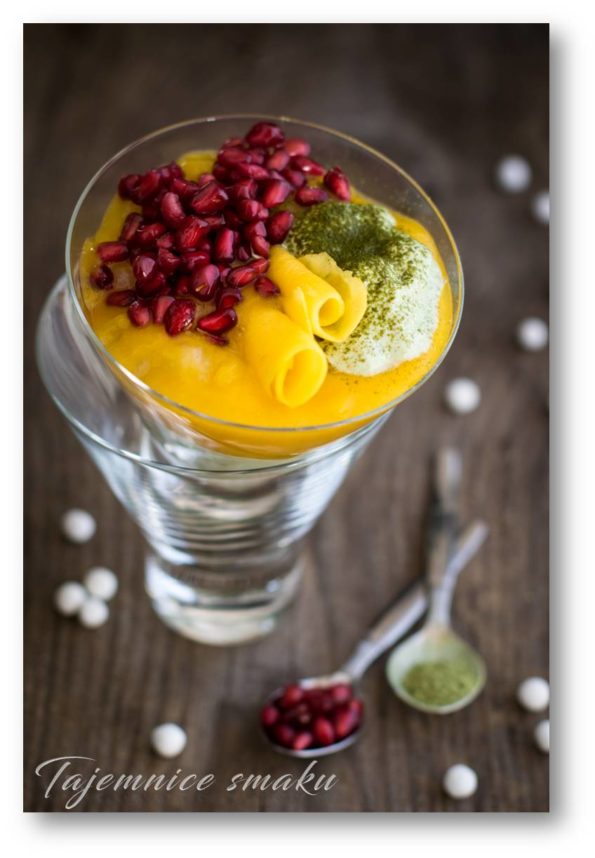 <! - / wp: image ->
What are tapioca pearls? It is a granulate made from starch extracted from cassava root. Cassava starch is formed into granules, in sizes 1 to 8 millimeters. How to cook tapioca pearls? I always recommend it read the instructions on the packaging. It all depends on the product, according to some descriptions, pearls should be soaked before cooking, according to others, not.
I usually cook 100g of raw tapioca pearls, I strain it and store it in a glass container in a refrigerator for 2-3 days. I add to oatmeal, yoghurt, fruit mousses. Today I propose tapioca pearls in dessert with mango, matcha yogurt and pomegranates. Tapioca pearls, matcha tea, syrup Maple can be purchased at online stores, incl. in Cuisines of the World .
Ingredients for 1-2 portions
100 g of cooked tapioca pearls *
100 g of natural yoghurt
1/2 teaspoon of powdered matcha tea
1 tablespoon of maple syrup
100 g of mango pulp
2 tablespoons of pomegranate seeds
Execution
Mix yogurt with matcha tea, maple syrup and 50 g cooked tapioca beads. Mango Mix to mousse and mix with the remaining tapioca pearls.
Dessert can be layered in 2 small glasses or so, like me in 1 large cup. I put a layer of yoghurt on the bottom, then mango and sprinkled it pomegranate seeds.
Enjoy your meal!
* There are different types of tapioca available for sale, so always read the description on the packaging!
Pour water into a pot, add 600 ml of water for 100 g of raw tapioca pearls and boil it. Put the tapioca pearls on the boiling water and simmer for about 30 minutes until the balls are slightly transparent. If necessary, add water so that we do not get jelly. When the balls become slightly transparent, pour the whole thing on a strainer, rinse with cold water and drain.
also check
Comments