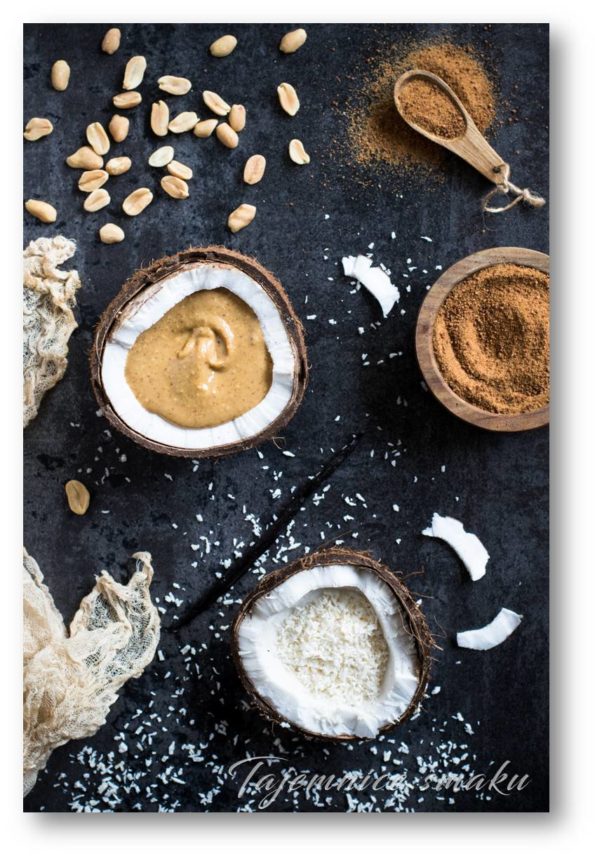 How to make homemade peanut butter? Nothing easier, we just need peanuts and a high-powered blender. A moment of mixing and we have real peanut butter... yum!
We can go a step further and start experimenting with our favorite additions. This time we will enrich the peanut butter with the flavor of coconut and vanilla.
Our butter came out very loose, which depends on the oiliness of the nuts, nuts can be different. However, after cooling in the fridge, the butter solidified. So it's worth taking them out of the fridge half an hour before serving.
Ingredients
500 g roasted unsalted peanuts
100 g desiccated coconut
1 vanilla pod or 1 teaspoon vanilla extract
2 tablespoons of brown coconut sugar
pinch of salt
Execution
In a dry frying pan, gently roast the peanuts, keep stirring and make sure they don't burn. Transfer the peanuts to another dish and in the same pan, roast the coconut flakes until slightly brown.
Put the peanuts into a blender and at first pulse them lightly. Then  add coconut flakes, scraped vanilla pod seeds, coconut sugar, salt and mix until you get a smooth, fat mass.
Enjoy!
also check
Comments