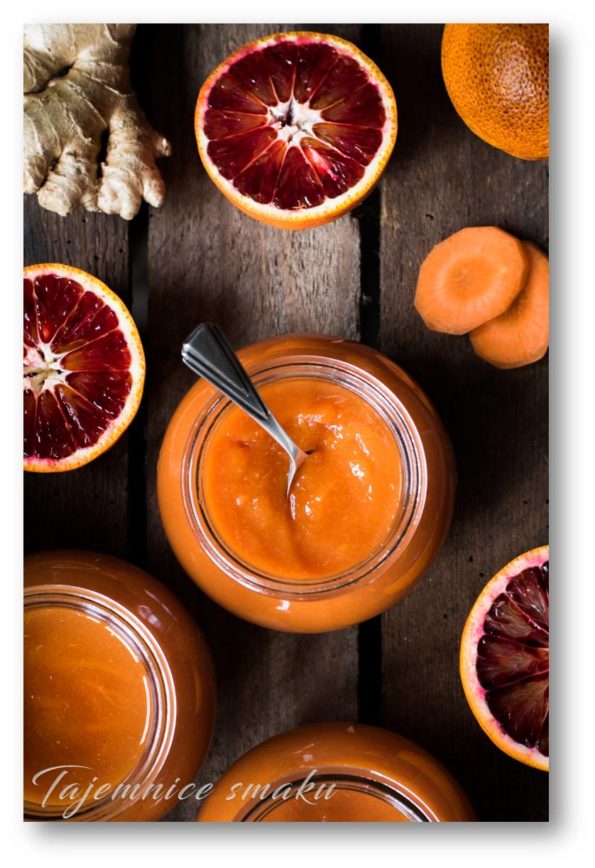 At the bread culinary workshops in the Culinary Atelier we kneaded and baked rye bread on 100-year-old sourdough Hieronimaccording to the advice and tips of Arek Andrzejewski "Breadmakers".
When the kneaded dough calmly grew in molds, at that time we prepared with Leszek, the host of the Culinary Atelier, additions to the bread. Delicious fish paste, roasted beetroot and horseradish cream, and hummus with paprika. In addition to savory additions, we also prepared an express sweet addition to bread, and it was ginger, orange and carrot jam... yummy.
...and this jam caused a sensation!
Taking advantage of the fact that red oranges are available in stores, I decided to prepare this delicious addition to bread at home.
Ingredients
1 kg of red oranges
400 g of carrots
150 g fresh ginger
500 g cane sugar
250 ​​ml orange juice
package of gelfix 2:1
Execution
Scrub the oranges with a brush, scald with boiling water and dry. Peel the skin of two oranges very thinly (no white albedo). Cut the peeled skin into thin strips (so-called julienne). Peel all oranges, cut them into pieces and remove the seeds.
Peel the ginger. A piece of peeled ginger (about 30 g) is cut into thin slices, then into thin julienne strips. Grate the remaining ginger on a coarse grater. Peel the carrot and grate it on a coarse grater.
Oranges in pieces, grated ginger, carrots and orange juice are mixed in a blender to puree. If you want jam with a velvety texture or your blender couldn't handle ginger or orange fibres, you can additionally wipe the finished puree through a sieve.
The purée, rubbed through a sieve, together with ginger and orange peel julienne, boil in a pot. Cook over medium heat for about 15 minutes, then add sugar and gelifix, mix. Bring to the boil again and cook for another 3 minutes.
Put the hot jam into sterilized jars and close tightly immediately. Place the jars upside down until they cool down.
Enjoy!
also check
Comments