How to stuff a large zucchini? We hollow out zucchini slices, stuff them and bake them.
What to do with grown zucchini? Does such a big one still taste good and won't it be stringy?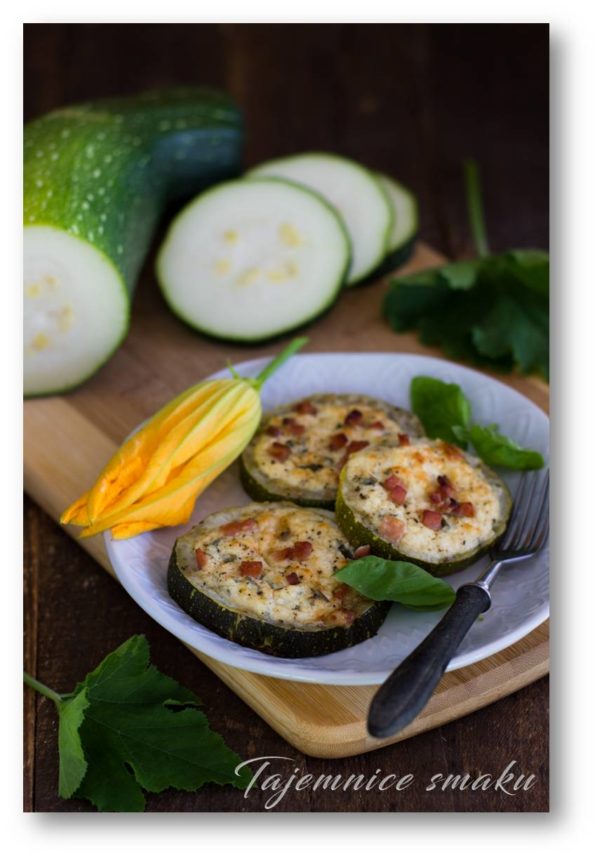 Nothing in our kitchen should be wasted. We can cut the overgrown zucchini into slices, remove the seeds and fibrous pulp, put the filling and bake. The seeds can be dried and sown in the garden in the spring.
If the skin turns out to be too hard for you, just don't eat it. However, do not peel such a hard skin for baking. This will make it easier to pull the baked slices out of the oven. Similarly, we can bake slices of squash, where the skin can be very hard.
INGREDIENTS
zucchini
250 g ricotta cheese
80 g Parmesan or other cheese*
1 egg
2 slices smoked bacon
a handful of fresh basil leaves
salt
pepper
grated nutmeg
olive oil< /li>
EXECUTION
Cut the bacon into small cubes.
In a bowl, use a fork to gently mix the ricotta cheese, 50 g of finely grated parmesan cheese, egg and chopped basil leaves.
Season with salt, pepper and grated nutmeg.
Cut the zucchini into slices about 1.5 cm thick.
We hollow out seeds with fibrous flesh.
Place the slices on a baking tray lined with baking paper and fill with cheese and egg stuffing.
Then sprinkle with the remaining grated Parmesan, chopped bacon and drizzle with olive oil.
Put in an oven preheated to 180°C and bake for about 15 - 20 minutes.
Stuffed zucchini slices are served immediately, they taste best still warm!
*What to replace Parmesan, Italian hard Parmigiano Reggiano cheese? It is best to choose a cheese with a similar structure or at least a similar hardness. A good choice will be Italian cheese Grana Padano, Greek Kefalotiri, Lithuanian Džiugas or our Polish crispy and aromatic cheese with a spicy note Amber
also check
Comments