<! - wp: image {"align": "center", "id": 1466, "className": "is-style-default"} ->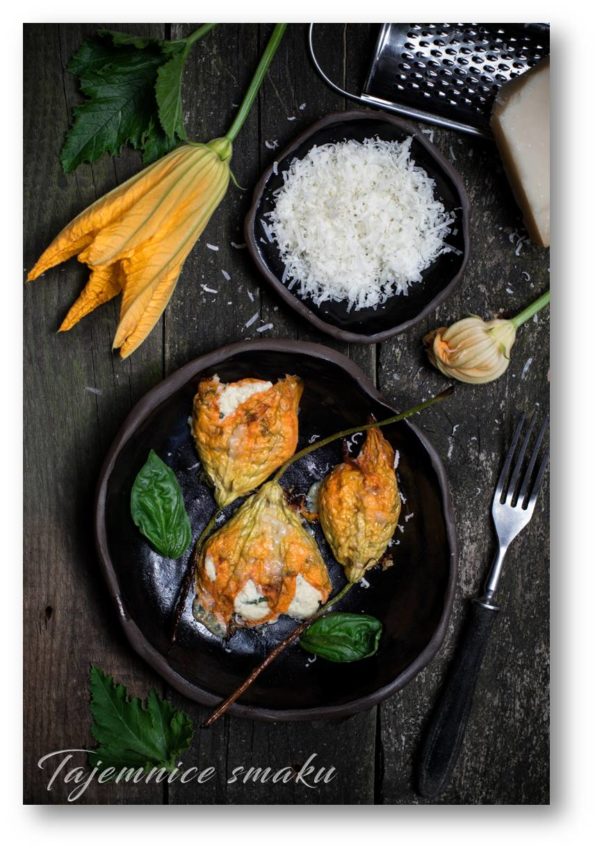 <! - / wp: image ->
Courgettes produce two kinds of flowers on one plant - male and female. It is very easy to distinguish male inflorescences from female ones, since male inflorescences have a stamen and a thin stem. The female have fruit ovules instead of the stem.
Both inflorescences are edible, but culinary use is male, remembering not to pick all the flowers from the flower bed. We leave some of them for the bees to light the female inflorescences, from which the courgettes will grow.
Ingredients
10 - 12 zucchini flowers
250 g ricotta cheese
50 g Parmesan cheese - parmigiano reggiano
1 egg
a handful of fresh basil leaves
salt
pepper
grated nutmeg
additionally - grated Parmesan and olive oil
Execution
In a bowl, gently mix the ricotta, grated Parmesan, egg and chopped basil leaves with a fork. Season with salt, pepper and grated nutmeg.
Do not wash the flowers, they are very delicate. Only remove the inside of the post, fill it with the prepared mass, gently roll the petals and put them on a baking sheet lined with baking paper. Then sprinkle with grated Parmesan cheese and drizzle with olive oil.
Put in the oven preheated to 180 ° C and bake for about 15 minutes.
Serve the stuffed zucchini flowers right away, they taste best while still warm!
Enjoy your meal!
also check
Comments