Tsureki - Greek challah for Passover. Yeast challah with chocolate, almonds, cardamom and orange peel
Tsureki is one of the traditional pastries in Greece prepared for Passover. However, the cake is so popular that it can be found in various versions in Greek bakeries all year round.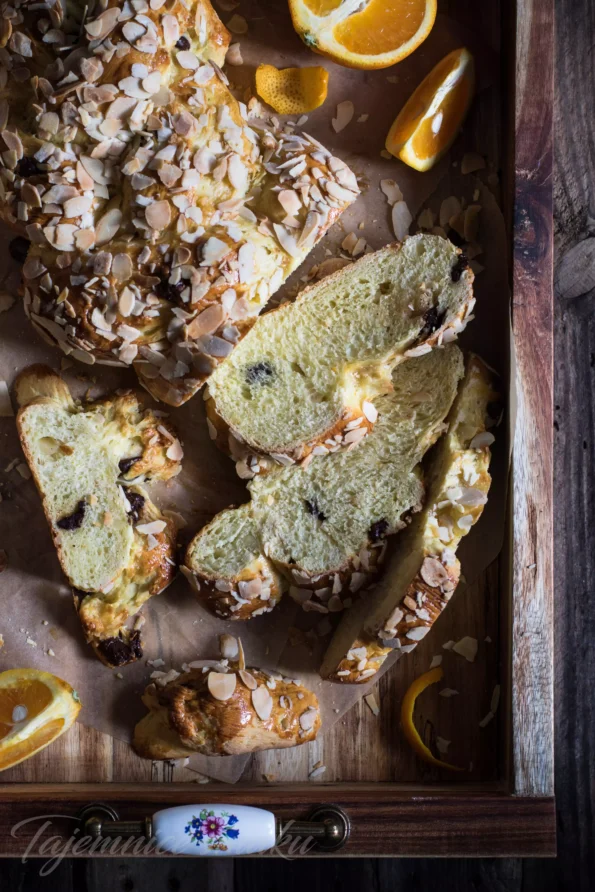 The recipe for traditional Greek tsureki comes from the book by Sabina Frenchman Siga, siga> A taste of Greece on your plate.
INGREDIENTS
100 - 150 ml of milk
10 g of fresh yeast
40 g of sugar
30 g of butter
300 g of wheat flour type 500
1 egg
pinch of salt
2 pinches of cardamom
peel of 1 orange
30 g dark chocolate
30 g almonds
1 egg yolk
EXECUTION
Mix yeast and 20 g of sugar with warm milk and leave for 10 minutes.
Dissolve the butter and set aside to cool slightly.
Sift the flour into a bowl, add the remaining sugar, egg, salt, cardamom and orange zest.
Pour the dissolved yeast into the flour and knead the dough.
After a few minutes, when the ingredients combine, add the melted butter and knead until the dough is soft and elastic.
Cover the dough in a bowl and leave it in a warm place for about 90 - 120 minutes to rise.
Chocolate and almonds are chopped.
Divide the dough into 3 equal pieces, add chopped chocolate and almonds in equal parts to each. Knead and roll 3 rolls of equal length, about 40 cm each.
We braid the braid and put it on a baking sheet lined with baking paper.
Cover and leave in a warm place for about 20 minutes.
Preheat the oven to 180°C.
Smear the challah with beaten egg yolk and sprinkle with almond flakes.
Bake for about 25 minutes.
also check
Comments