Easter bunnies, happy yeast rolls
Yeast bunnies will be a charming decoration of the Easter table and basket. Children will have the greatest fun when we let them roll and count the balls, and then make bunnies out of them.
Easter bunnies can be prepared using any of your favorite yeast challah recipes. All you have to do is weigh the finished dough and divide it to get 16 equal smaller portions for the head and ears, 8 larger portions for the tummy and leave a little bit of dough for the tails. If you don't feel like counting, use this recipe.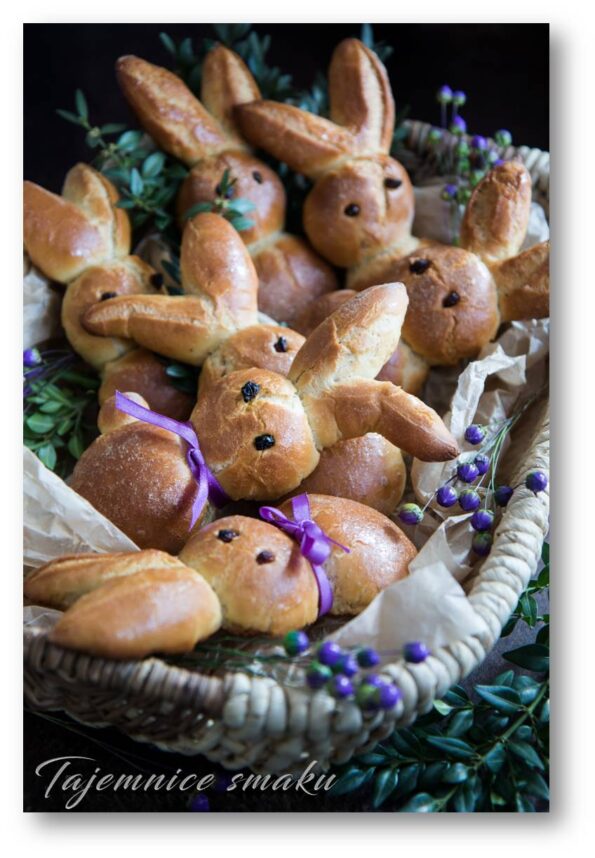 I prepared these bunnies based on the recipe on golden challah on oil and water. I only replaced wheat flour type 500 with light spelled flour type 650. Before baking, I smeared the bunnies with maple syrup instead of egg. This is a very delicious variety, I recommend it!
This recipe will make 8 bunny buns*.
Ingredients
400 g of light spelled flour type 650 It's the one!
30g of sugar
2 eggs
40 ml vegetable oil
150 ml of water
8g of salt
12 g of fresh yeast
maple syrup to spread
raisins for the bunny's eyes
scissors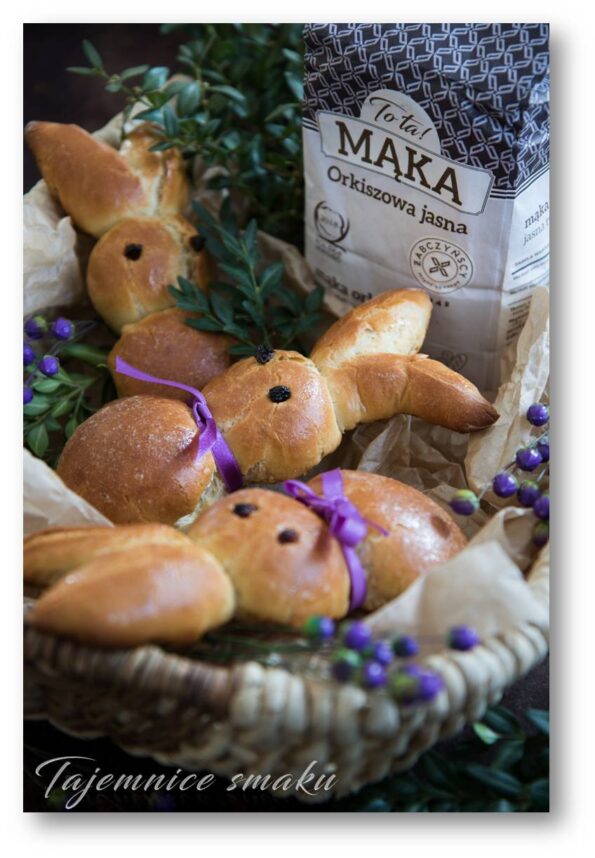 Execution
Dissolve the yeast in a bowl in water. Then add the rest of the ingredients except the maple syrup and raisins. Mix everything together and knead until the dough is smooth and elastic. Cover the well-kneaded dough with a damp cloth or cling film. Leave in a warm place for about 1.5 hours so that the dough doubles in size.
The risen dough is divided into portions:
8 pieces of 40 g per tummy
8 pieces of 25 g per head
8 pieces of 25 g per ears
Make 8 balls for the tails from the remaining dough.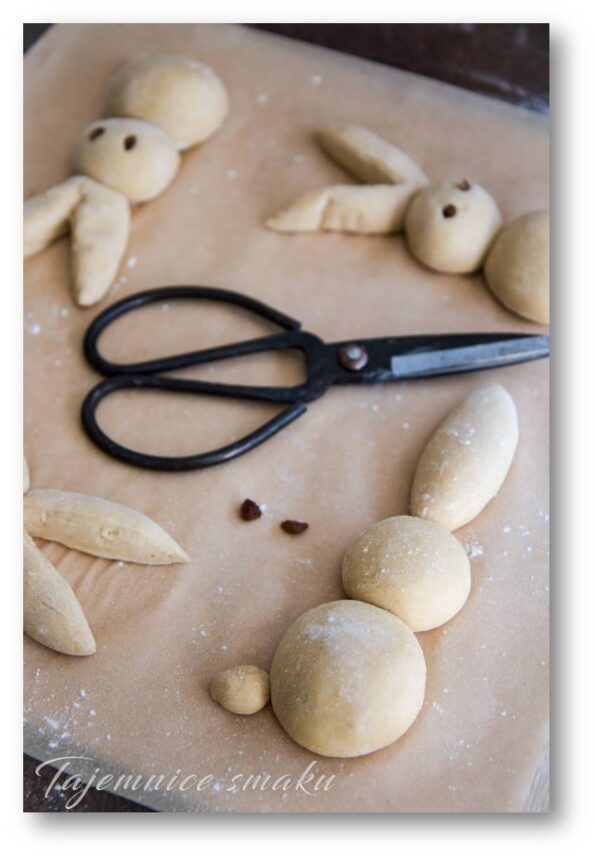 We roll balls from the pieces for the tummy and head, and form 8 rolls from the dough for the ears. Place the bunnies on two baking sheets lined with baking paper. Starting from the belly, then the head, ear and finally the tail. Cut the bunny's ear in half (not all the way) with scissors to get a pair of ears. With the tip of the scissors, cut places for the eyes and stick the raisins cut in half into the holes.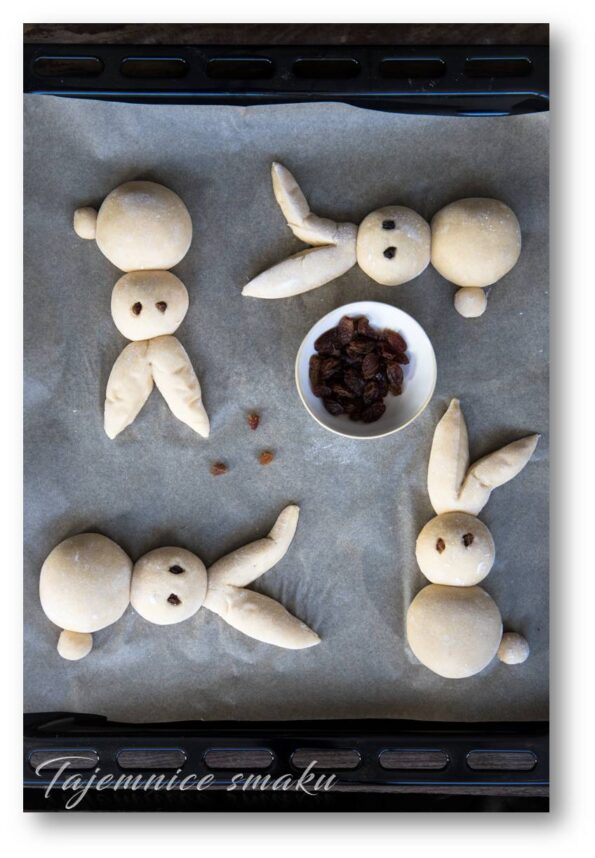 We cover the bunnies with a cloth and let them rest for about 45 minutes. Brush the grown bunnies with maple syrup. Bake for 18 - 20 minutes at 190 ° C until golden. We cool on the grate.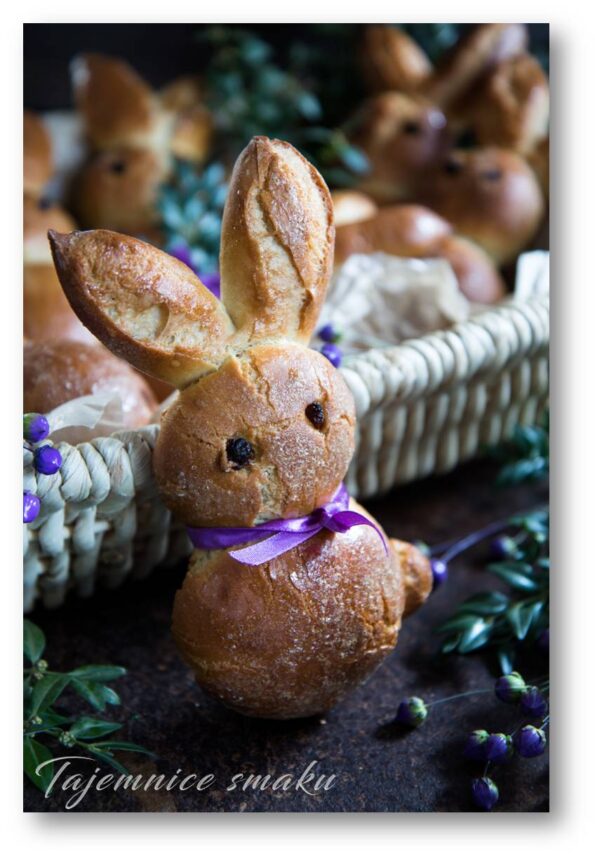 Enjoy!
*Inspiration Besondersgut
also check
Comments