Green leafy salad and pink eggs. Spring salad - salad mix, avocado and quail eggs marinated in beetroots
A simple and effective salad with beetroot eggs is an idea for an Easter dish and more. Pickled eggs can be added to salad with arugula, lamb's lettuce, spinach.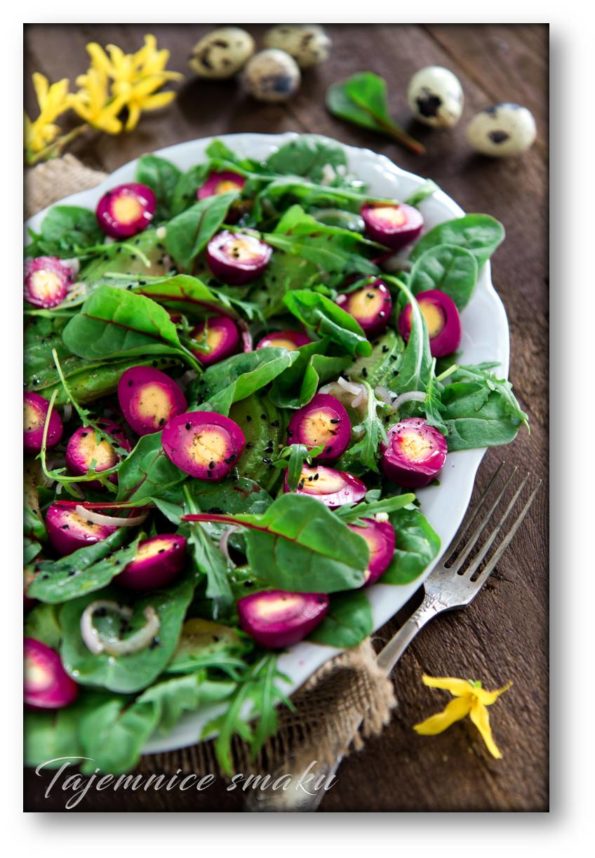 I found a mix of salads in the store, where one of the ingredients was red mangold.
What is red mangold? These are leaf beets, a variety of common beet, which is grown just for the leaves.
Christmas is a period when we often complain about the lack of time in the kitchen. The salad takes a few minutes to prepare, all you need to do is prepare the eggs in advance. Such an Easter salad is the perfect idea for a quick, healthy and colorful dish to appear on the holiday table.
INGREDIENTS
RED EGGS
12 pieces of boiled quail eggs
500 g of beets for juice - we need about 250-300 ml of juice
1 tablespoon of apple cider vinegar
SALAD
2-3 handfuls of green leaves: arugula, lamb's lettuce, spinach, red mangold, green lettuce, radicchio...
1 avocado
1 shallot
juice of 1/2 lemon
2 tablespoons of linseed oil
salt
pepper
EXECUTION
Peel the scrubbed beets and squeeze the juice out of them.
Fresh juice can be replaced with e.g.   with beetroot sourdough.
Mix the juice with apple cider vinegar, pour this mixture over the peeled eggs.
Leave the eggs covered with juice in the fridge for about 1-2 hours.
Then, drain the eggs, do not pour out the juice, we can use it, for example, for Ukrainian borscht< /a>.
Peel the avocado, remove the pit, cut into thin slices and sprinkle with lemon juice.
Slice the peeled shallot.
Put the washed and dried green leaves on a platter, sprinkle with the rest of the lemon juice.
We put sliced ​​avocados between the leaves, sprinkle with chopped shallots, decorate with halves of red eggs.
Season the whole thing with salt, pepper, pour linseed oil and sprinkle with black cumin seeds.
The salad is served immediately, when all the ingredients are fresh and firm.
also check
Comments