Ukrainian borscht with beetroot sourdough. Traditional borscht made of red beets, vegetables, cabbage and beans.
Homemade beetroot sourdough is the best, I recommend two recipes, one for sourdough with bread crust, the other without.
Beetroot sourdough
Beetroot sourdough with bread crust
What can be prepared with beetroot sourdough? Ukrainian borscht, in Ukraine called "Chernihiv borscht" (борщ чернігівський)*  which is served with dumplings.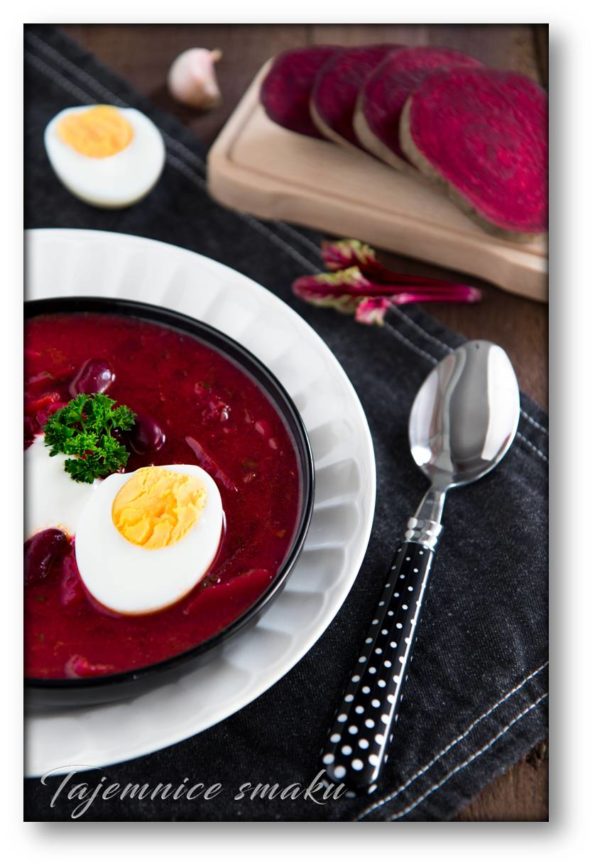 INGREDIENTS for a 5 - 6l pot
DECOCE
veal shank with bone - 2 pieces - about 800g
1.5-2 liters of water
500g beets
300g potatoes
1 carrot
1 parsley root
3 bay leaves
3 grains of allspice
10 grains of black pepper
3 dried mushrooms
CABBAGE
250g of shredded white cabbage
1 tablespoon of butter
100ml dry red wine
BORSE
1 can of red beans
2 tbsp tomato paste
1l of beetroot sourdough
2 cloves of garlic
1 - 2 tablespoons balsamic vinegar
100ml of 18% cream
salt, pepper
2 - 4 tablespoons of fresh chopped herbs - dill and parsley
hard boiled eggs - 1 piece per plate
EXECUTION
Wash and peel all vegetables, cut potatoes into cubes, carrots, parsley, beets into strips.
Put veal shanks, allspice, leaves, peppercorns, and dried mushrooms into a large pot, pour cold water and cook covered over low heat for about 1 hour.
Meanwhile, melt the butter in a frying pan, add the shredded cabbage and fry, stirring constantly, until lightly browned.
Then add the wine and simmer until the liquids are reduced.
After an hour, without stopping cooking, add chopped vegetables and stewed cabbage to the broth.
When the broth is ready and the vegetables are soft, add crushed garlic, beetroot leaven, tomato paste, red beans, season with salt, pepper and balsamic vinegar.
At the end, we add fresh herbs, we can whiten with cream in a pot or on a plate. Serve with a hard-boiled egg.
*source - Wikipedia
Save< /span>
Save
also check
Comments