Soft and fluffy yogurt muffins with black currants. A very quick to prepare dessert, currant in taste, perfect for coffee
Smrodina, smrodynia, smrodyńki are other names for blackcurrant. Fresh fruit is very tart and sour in taste. I don't mind it, I even love it, but I know that not everyone likes their taste.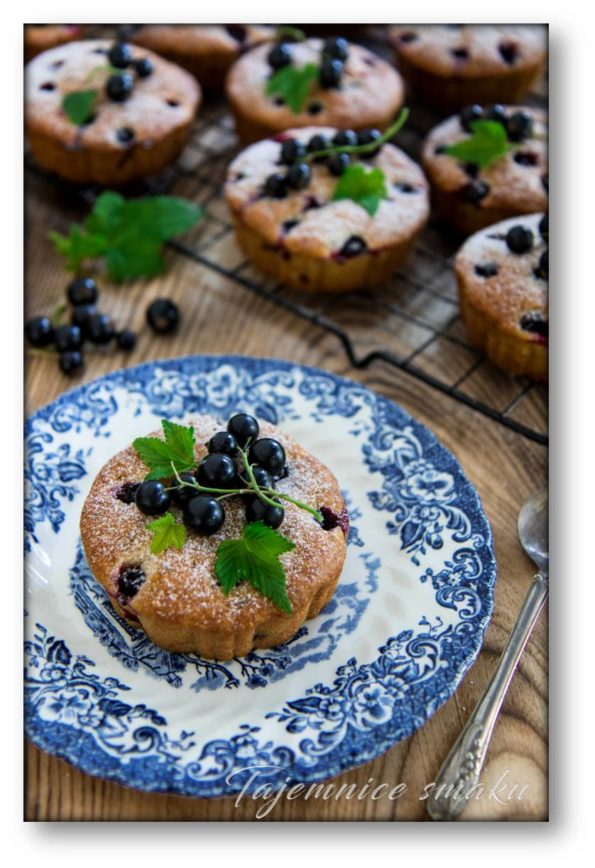 Blackcurrant fruit gains its taste after thermal treatment, in juices, jams, preserves or just as an addition to cakes. If you don't believe it, try it!
Delicate yoghurt cupcakes thanks to the blackcurrant fruit gain character and a nice sour aftertaste. This cake can also be baked in a larger baking tray, then the baking time is extended to about 1 hour.
Ingredients
350 ​​ml natural yoghurt
150 ml oil
3 eggs
1/2 teaspoon vanilla extract
320 g flour
150 g sugar
1 teaspoon baking soda
1 teaspoon baking powder
1/2 teaspoon cardamom powder li>
2 tablespoons chopped mint
blackcurrant - a large glass
icing sugar and a few currant sprigs for decoration
Execution
Using a mixer, mix eggs with yoghurt, vanilla extract and oil.
In the second bowl, mix the remaining dry ingredients: flour, sugar, soda, baking powder, cardamom, add the chopped mint and mix gently with the yoghurt mass.
Four the ready mixture. molds, put blackcurrant fruit on top and bake in a preheated oven to 175°C (fan-forced) for about 25 minutes.
Sprinkle the cooled cupcakes with powdered sugar and decorate with fresh blackcurrant fruits.
ol>

also check

Comments