Homemade preserves - Brussels sprouts and beetroot pickle
Pickled Brussels sprouts - tasty, healthy and crunchy. In the hope of getting a beautiful red pickle, just like with cauliflower, I decided to add beetroot. After a week, the brine was juicy beetroot, Brussels sprouts, unfortunately not.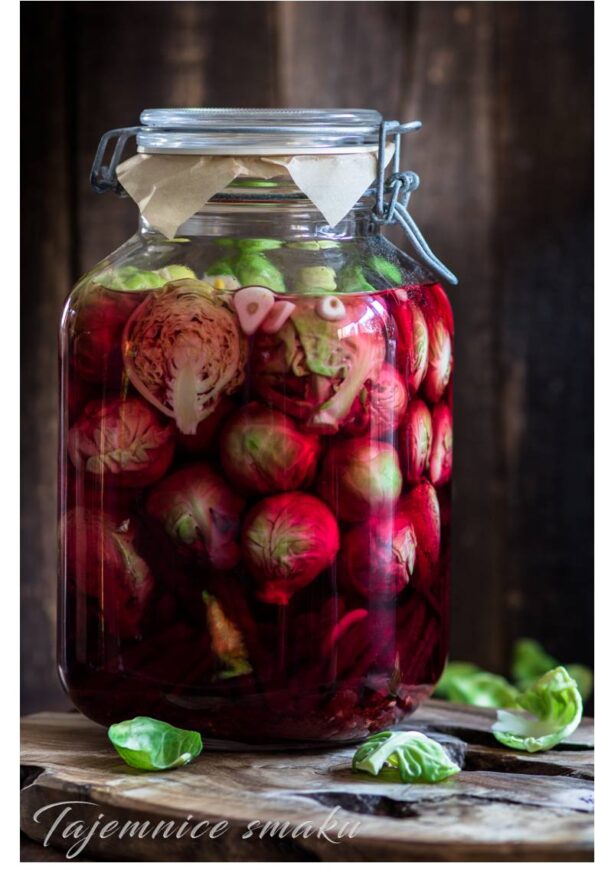 I can't define the color, but the more I look at it, the more I like it ;-) Maybe I added too little beets? I'll check it next time. The important thing is that Brussels sprouts came out very tasty!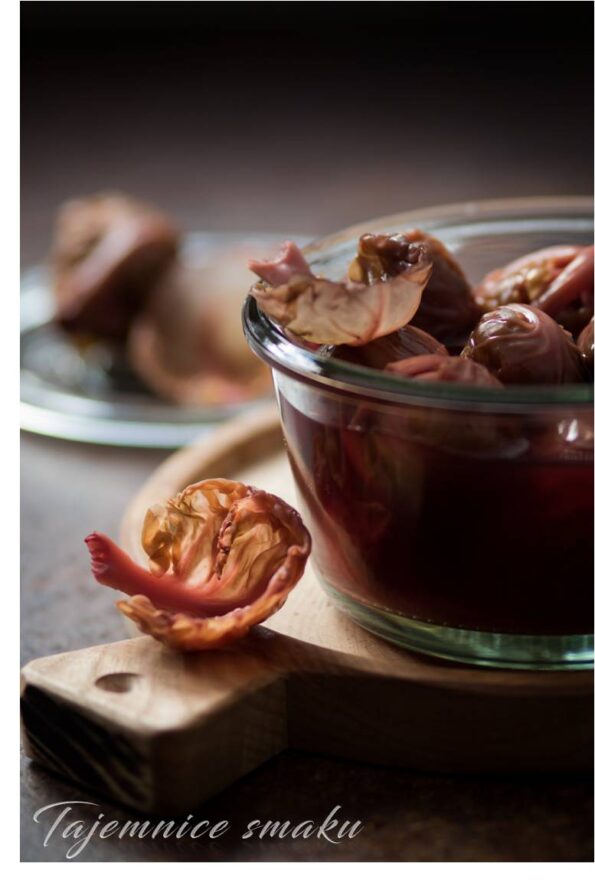 If you prefer greener silage, you can omit the beetroot
EXECUTION
INGREDIENTS
1 kg of Brussels sprouts
3 cloves of garlic
2 cm ginger
2 cm horseradish
1 large red beet
1 teaspoon of fenugreek seeds
1 teaspoon of hot pepper flakes, I usually use Gochugaru
brine
EXECUTION
BRINE
1 tablespoon of non-iodized rock salt per 1 liter of boiled water.
PICKED BRUSSELS
Peel the garlic, horseradish and ginger and cut into thin slices. Peel the beetroot and cut into slices, then into thin sticks. Wash the Brussels sprouts and, if necessary, remove the outer leaves.
Into a large scalded jar (about 2 l) put in the following order: fenugreek, pepper flakes, garlic, ginger, horseradish, beetroot sticks. Then put the Brussels sprouts whole, stuffing them tightly, the larger ones can be cut in half. At the end, pour warm brine so that it covers the Brussels sprouts completely.
Vegetables can be pressed down with a small plate, a glass lid from Weck jars, a stone or a special pressure plate for pickles. We close the jar and let it ferment at room temperature for 7 - 10 days. For the first few days, you can open the jar once a day and let the air out.
Brussels sprouts, if it's warm in the room, after about a week they may already be pickled, it's worth trying. When the pickle is ready, let's move the jar to the fridge or another cool place. However, if we find that it is too weakly pickled, leave it at room temperature for longer.
You can buy Korean coarsely ground Gochugaru peppers and fenugreek in online stores, e.g. w Cuisins of the World.
also check
Comments