Homemade pickles - delicious, healthy, colorful - beetroot, red cauliflower
Pickled cauliflower - I didn't try it, I didn't know the taste and somehow I doubted that it could be tasty. Because of this, I took so long to try to pickle him. Now I know it was a mistake!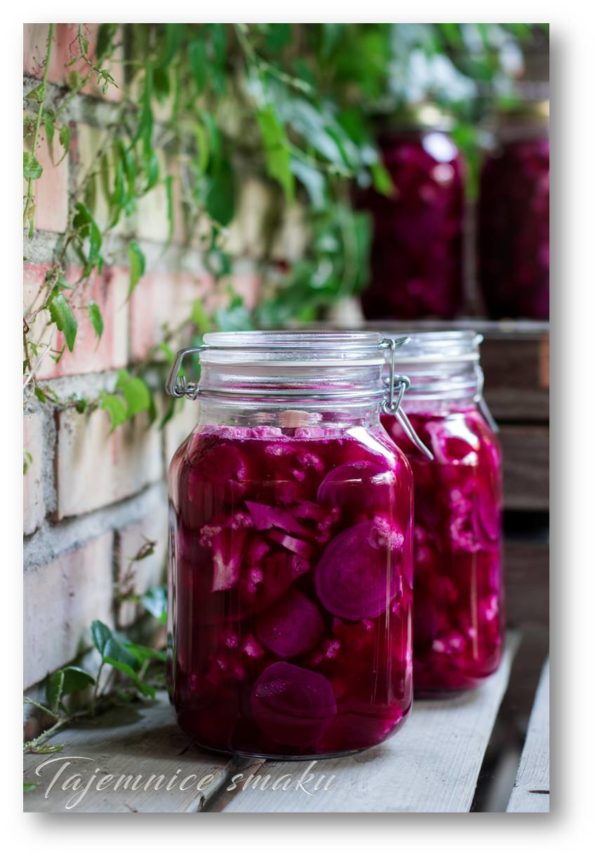 One summer morning in a tiny and charming breakfast bar in Krakow* I tried pickled cauliflower in beets for the first time. I'm lost... it was delicious, crispy, and in addition in a wonderful color. I returned home and since then I have been experimenting with pickling cauliflower in different versions. So far, the cauliflower pickled according to this recipe tastes the best to me.
INGREDIENTSfor 2 jars with a capacity of 1 l
1 medium cauliflower
1 beetroot
1 - 2 garlic cloves
1 - 2 bay leaves
1/2 teaspoon Gochugaru (hot pepper flakes used for kimchi) or a few peppercorns
a piece of horseradish root - about 3 cm
brine - mix 1 l of boiled water with 1 tablespoon of salt non-iodized stone wine
optionally (to speed up fermentation) - a few tablespoons of pickled cucumber juice or kimchi pickled juice
EXECUTION
Beetroot, garlic and horseradish are peeled and cut into thin slices.
Cauliflower is divided into florets.
Place cauliflower florets and beetroot slices in jars together with garlic, horseradish, bay leaf and pepper flakes.
Pour the whole thing with brine, optionally add juice from pickled cucumbers or kimchi.
We close the jars and let them ferment at room temperature for 4 - 5 days.
For the first 2 - 3 days, we open the jars once a day to degas the silage.
The cauliflower is ready after 4 - 5 days and you can move the pickle to the fridge. However, if you think that it is too weakly pickled, leave it at room temperature for longer.
Tasty and healthy!
Dominika - Jarzynova, thank you again for breakfast together at Ranny Bird.
also check
Comments