Homemade pickles - pickled fennel. Spicy fermented fennel, a delicious and healthy pickled salad
Fennel, or fennel, is a very delicious and aromatic plant with a wide range of uses. Fennel bulb can be eaten raw, boiled, baked and pickled. Green, fresh and chopped leaves are a delicious and aromatic addition to many dishes. Dried fennel seeds are also a very aromatic spice and the basic ingredient of the well-known dill tea.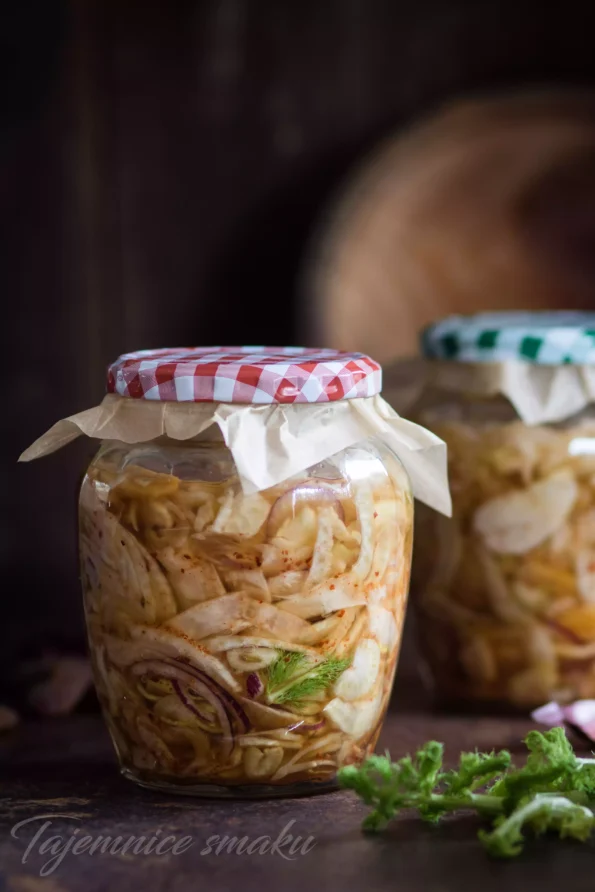 The taste and smell of fennel is very distinctive. Its aroma resembles anise or liquorice and unfortunately not everyone likes it. However, depending on how it is prepared, fennel tastes different each time. I recommend experimenting with fennel in the kitchen, because it is a very tasty and healthy vegetable.
Pickled salad: fennel, dried apricots, red onion, garlic, ginger, gochugaru and coriander.
INGREDIENTS
1 kg of fennel (fennel) - 4 - 5 tubers
3 - 4 cloves of garlic
4 cm of fresh ginger rhizome
100 g of red onion
150 g of dried apricots
1 tablespoon Gochugaru (or chili, as much as we like)
1 teaspoon of coriander seeds
brine - 1 heaping tablespoon of rock salt per 1 liter of water
EXECUTION
Bride - 1 heaping tablespoon of non-iodized rock salt per 1 liter of water boiled and cooled to room temperature.
Peel the garlic and red onion and cut into thin slices.
Peel the ginger, thinly slice it and then into strips.
Cleaned fennel is cut into very thin slices (it is best to chop it on the so-called mandolin).
Rinse dried apricots with boiling water in a strainer, then cut into thin strips.
Put the chopped dill in a bowl, add slices of red onion and garlic, ginger and apricot strips, pepper flakes and coriander seeds.
Mix everything thoroughly, put into jars and beat (knead tightly).
Pour the brine, press it so that nothing flows onto the surface of the brine. The optimal height of the pickle is 1-2 cm above the fermenting product and 2-3 cm below the edge of the jar.
We press the vegetables with a small plate, a glass lid from Weck-type jars, a stone or a special silage press. This is an important rule of safe fermentation, as anything exposed to oxygen can go moldy.
We close the jar and leave it to ferment at room temperature for 2 - 3 weeks. After a week, I recommend checking the taste of the silage, sometimes the fermentation process is very fast.
When we decide that the pickle has a taste that suits us, we put the jars of fennel in the fridge or in a cold cellar.
How much silage can stand in the cold? It is difficult to answer this unequivocally. Recently, I took out a year-old pickled fennel with apricots from the fridge and it was delicious. The fennel was still crunchy and I already wished I had only made one jar.
also check
Comments