<! - wp: image {"align": "center", "id": 1445, "className": "is-style-default"} ->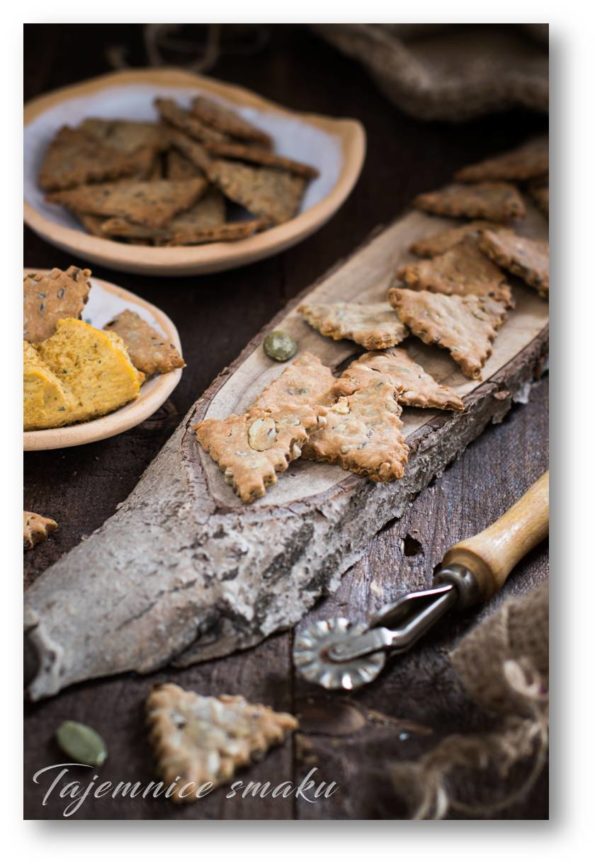 <! - / wp: image ->
Tahina, a paste made of ground sesame seeds, is common in the Middle East and in Mediterranean cuisine. It is available in stores with world cuisine products, we can also prepare it at home.
The most famous and famous dish using tahina is hummus.
Sesame paste can also be used as an addition to sauces, desserts, sweet cookies or just salty crackers *.
Ingredients
60 g of rye flour
30 g of tahina (2 large spoons)
50 g of mixed seeds and seeds (sunflower, pumpkin, linseed)
1/2 teaspoon of salt
50 ml of cold water
Execution
Put all the ingredients in a bowl, knead the dough thoroughly and form a ball. Tear off a piece of dough, flatten it, and then lightly roll it to a thickness of 3-4 mm. Cut out rectangles, squares, triangles with a knife or a knurling... Place them on a baking tray lined with baking paper.
Preheat the oven to 180 ° C. Put the cookies in a preheated oven and bake them for about 20 minutes.
Crackers can be served with humus, cottage cheese, guacamole or other vegetable or cheese spreads.
Enjoy your meal!
* Recipe taken from "Kuchnia" magazine 01/2018
also check
Comments